New ABB DC converter AO820 3BSE008546R1 power supply board
if you have a large purchase, we can make a discount.
Contact: Jessica
Moore Automation
Tel / Whatsapp:+8618030235311
Wechat: hu18030235311
E-mail: sales*mvme.cn (please change * to @)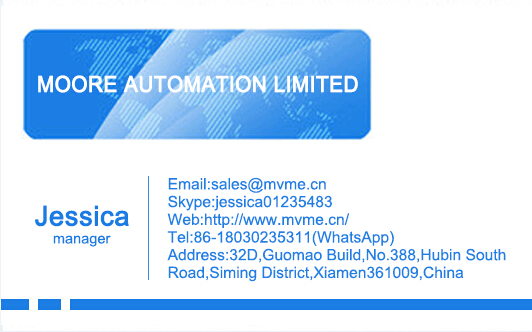 Our services
Packing & Delivery
1)100% full New! - Original Factory Seal !
2)Warranty: 12 months!
3)Package: Original packing with cartons.
4)Delivery time: Shipped in 3 days after payment
5)ship to you via DHL/TNT/UPS/EMS/Fedex.
6) All the goods will be tested before shipment.
If you require more than one item, please let us know, as we could arrange a discount for you.
If you manage to find the same parts cheaper through any other supplier, we will match that price,or provide you with a further discount.
If you have any further questions, please don 't hesitate to contact us.
We look forward to your inquiries.
E-mail: sales*mvme.cn (please change * to @)
15377-4FM
15738-119
16249-51-4
3-424-2283A02
353A4F1NNNNNNA4
353D4F1NNETNNA4
383VA21N1F
39ACM14CAN
39PSMNAN
39PSR4ANDN 16114-200/01
39RTMCAN
39VIMCBN
39VIMCCN
39VIMNBN
3RX9306-1AA00
405-15ABM
405-4DAC
405-4DAC-1
GENERAL ELECTRIC GE SEDA36AT0100 SPECTRA RMS 3P 100A CIRCUIT BREAKER B421366
NEW ABB T1N015TLA 3P 15A AMP 480V-AC CIRCUIT BREAKER D431106
WESTINGHOUSE MCP13300CR 3P 30A AMP 600V-AC MOLDED CASE CIRCUIT BREAKER B475831
NEW CUTLER HAMMER JT3250T 3P 250A AMP TRIP UNIT CIRCUIT BREAKER D479375
NEW CHALLENGER CFH3100 CFH 65K 3P 100A AMP 600V-AC CIRCUIT BREAKER D211102
ITE JL3A225 3P 225A AMP 600V-AC MOLDED CASE CIRCUIT BREAKER D423354
BULLDOG ELECTRIC 31120 PUSHMATIC 1P 20A AMP 120/240V-AC CIRCUIT BREAKER D467086
FEDERAL PIONEER NB120 1P 20A AMP 120/240V-AC MOLDED CASE CIRCUIT BREAKER B452775
WESTINGHOUSE MCP13300S MOTOR INTERRUPTER 3P 30A 600V-AC CIRCUIT BREAKER B352605
Warranty: 12 month
Moore supply: New+original+factory sealed+high quality