MODEL NO.
DW5356
APPLICATION
DW 5356 Falling Dart Impact Tester is designed to measure the impact energy of the free-falling dart from a certain height against plastic films or sheets with a thickness less than 1mm, which would result in 50% failure of specimens tested. Two methods are available. Method A employs a dart with 38 mm diameter hemispherical head, dropped from a height of 0,66 m, and method B employs a dart with a 50 mm diameter hemispherical head dropped from a height of 1,50 m. The measurement technique is the staircase method.
RELATED STANDARDS
‍
| | | | | |
| --- | --- | --- | --- | --- |
| Standard | ISO 7765-1-1988 | ASTM D1709 | JIS K7124-1 | GB/T 9639.1-2008 |
Note: this tester can conform to but not limit to the standards above, for more standards conformance, please contact us.
FEATURES
1. LCD display is convenient for the user to set test parameters quickly;
2. Electromagnetic suspension and automatic release of the falling dart reduce the error caused by manual operation;
3. Pneumatic clamping, two starting modes of manual and pedal switch and built-in observation light are convenient to the user's operation;
4. Professional software supports multi-unit results display, graphic display of testing process and data export and printing;
5. Equipped with RS232 port and micro printer port which is convenient to the data transmission and PC connection;
6. Support Lystem™ Lab Data Sharing System for uniform and systematic data management.
KEY SPECIFICATION
l Impact hoisting height Method A:660mm Method B:1500mm
2 Impact failure mass Method A:50g~2000g Method B:300g~2000g
3 Falling dart hemisphere head size Method A:SR19mm Method B:SR25mm
4 Specimen thickness ≤1 mm
5 Specimen size ≥153 mm×153mm
6 Accuracy 0.1g (0.1J)
7 Specimen clamp Pneumatic Clamp
8 Pressure of gas supply 0.6MPa
9 Port of gas supply Φ8 mm PU Tubing
10 Weight quality of Method A 5g (≥2sets)/15g (8sets)/30 (8sets)/80g (8sets)
11 Weight quality of Method B 5g (≥2sets)/45g (8sets)/90g (8sets)
12 Power supply AC 220V 50Hz
13 Net weight 70kg
14 Instrument size of Method A 500 mm(L)×450mm(W)×1320mm(H)
15 Instrument size of Method B 500 mm(L)×450mm(W)×2160mm(H)
STANDARD CONFIGURATION
| | | |
| --- | --- | --- |
| No. | Item | Quantity |
| 1 | Method A Accessories | 1set |
| 2 | Micro Printer | 1set |
OPTIONAL ACCESSORIES
| | | |
| --- | --- | --- |
| No. | Item | Quantity |
| 1 | Method B Accessories | 1set |
| 2 | Professional Software | 1set |
| 3 | Communication Cable | 1set |
| 4 | Air compressor | 1set |
ELATED PHOTES :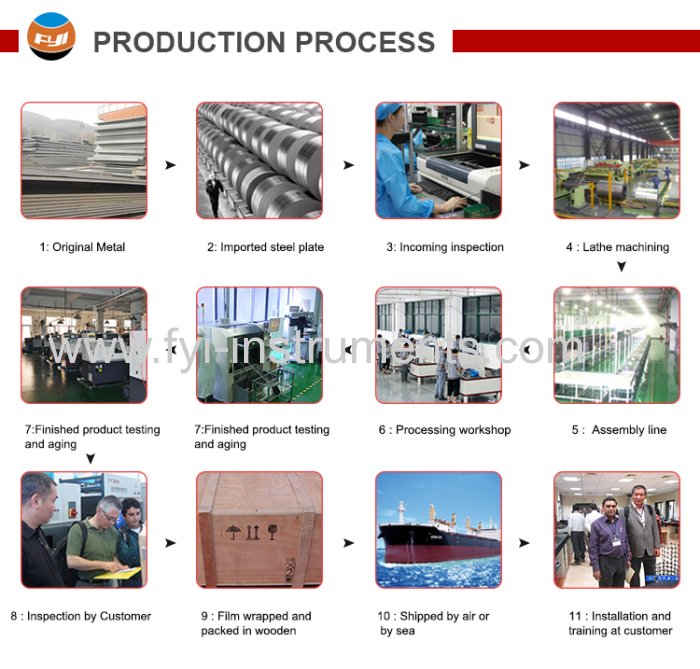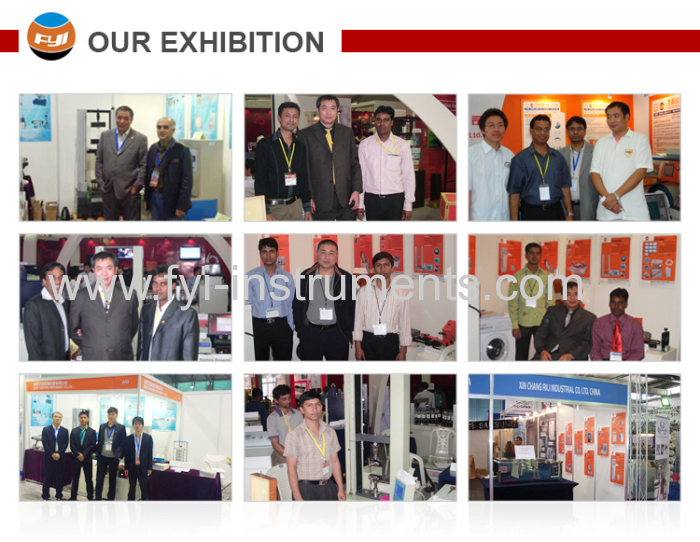 ISO AND CE certificate :