Gypsum grinding machine of Gypsum Processing Plant for gypsum powder making can grind gypsum, calcite, limestone, marble, calcium carbonate, etc more than 200 minerals.
Application of Gypsum grinding mill Gypsum Gypsum grinding machine Gypsum processing plant Gypsum processing machine Gypsum powder making :
Gypsum grinding machine made by Shanghai Clirik has the features of high efficiency, environmental protection, and energy consumption. The Calcined zinc oxide powder are widely used as new building materials and chemical products of raw materials because of rich resource and low price, getting the favor people. At present ,our ultrafine mill ;ultrafine powder grinding mill not only has a large number of customers at home , but also exported to dozens of countries abroad.our ultrafine mill ;ultrafine grinding mill have exported to more than 130 countries, such as USA, , Ukraine, Japan, Poland, France, Brazil, Mexico, Germany, Indonesia, India, Vietnam, Philippines, Canada, South Africa, Zimbabwe, Russia, and so on.
Main Specification of Gypsum grinding mill Gypsum Gypsum grinding machine Gypsum processing plant Gypsum processing machine Gypsum powder making:
Main Specification

Model

HGM80

HGM90

HGM100L

HGM125

Ring Diameter(mm)

800

900

1000

1300

Ring Number(layer)

3

3

4

4

Roller Number(piece)

21

27

36

44

Main Shaft Speed (r.p.m)

200-240

200-220

180-200

135-155

Input Size(mm)

≤20

≤20

≤25

≤25

Finished Size(um/mesh)

5-47

(325-2500)

5-47

(325-2500)

5-47

(325-2500)

5-47

(325-2500)

Capacity(t/h)

0.5-4.5

0.6-6.5

1-8.5

1.5-12

Overall Dimension(L*W*H,m)

13.9*4*6.2

14.7*4.8*7.2

18*4.6*8.6

14*9*10.25

Motor Powder(Kw)

123-143

168.35

234.95

344.4
Working Principle of Gypsum grinding mill Gypsum Gypsum grinding machine Gypsum processing plant Gypsum processing machine Gypsum powder making: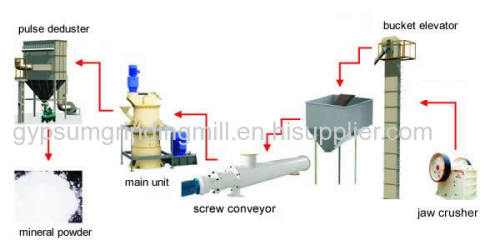 Gypsum Processing Plants