High Quality Volvo Bucket Teeth 20AMRE, used for digging hard surface and rock sites.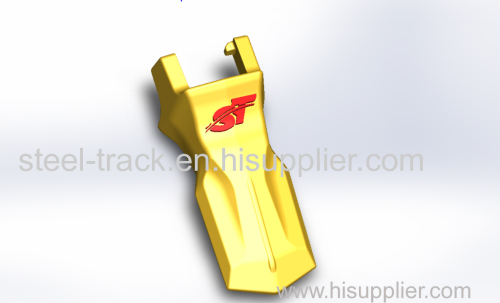 20AMRE
Steel Track are professional in making track shoe and bucket teeth. The technic of bucket teeth is precision casting. The quality is high. If you want to order some bucket teeth, pls send me the OEM number. I can give you the best prices. Thank you!

Different type and brands:
Side Pin Teeth And Adapter For CAT J200, J225, J250, J300, J400, J450/460, J550, J600, J700, J800
Teeth and Adapter For CAT Side Dump Bucket
Unitooth For CAT 20, 25, 30, 35
Ripper Teeth For CAT R300, R350, R450, R500, R550
Ripper Guards And Ripper Shanks For CAT
Grader Shanks And Teeth For CAT
Weld-on Heel Shrouds For CAT
Side Bar Protectors For CAT
Side Pin Teeth And Adapter For KOM PC60PC1250
Unitooth For KOM WA30WA600
Ripper Teeth for KOM
Conical Teeth And Adapter For ESCO 18, 22, 25, 30, 35, 40, 45, 50, 55
Super Conical Teeth And Adapter For ESCO: 36, 46, 56, 66, 76, 86
Helilok teeth And Adapter For ESCO: 21, 27, 37, 47, 57
Ripper Teeth For ESCO: 22, 25, 35, 39
Teeth And Adapter For H & L: 23, 24
Teeth For HENSLEY: 156, 220, 290, 310, 330, 370, 400, 410, 550
Teeth And Adapter For Volvo
Of course, you can give us the drawings of products to make new type. If you have any question , pls contact us.