Excavator TL/VIP Bucket Teeth for KOBELCO. It can be used in frost, rock or hardpan conditions. The life of span of the tooth is shortened. The logo of product, there are 3 ways you can choose. The first is no logo. The second is using our logo "ST". The third is that you send me your logo, then make it. And if the products are destroied in our warranty, we can send the new to you. In general, our products are in high quality, there is no problem about it.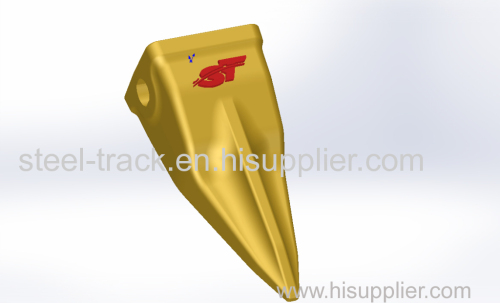 SK200TL
Steel Track company has more than 10 years experience in making track shoe and bucket teeth, even though the company only has been founded 2 years. Our company is near by Ningbo Port. So it is convenient to ship products out. We also sell track links, cutting edge and other undercarriage parts, like idlers, carrier rollers and so on. we can give you the best prices. Maybe we can be the work partners. Thanks!
Different type and brands:
Side Pin Teeth And Adapter For CAT J200, J225, J250, J300, J400, J450/460, J550, J600, J700, J800
Teeth and Adapter For CAT Side Dump Bucket
Unitooth For CAT 20, 25, 30, 35
Ripper Teeth For CAT R300, R350, R450, R500, R550
Ripper Guards And Ripper Shanks For CAT
Grader Shanks And Teeth For CAT
Weld-on Heel Shrouds For CAT
Side Bar Protectors For CAT
Side Pin Teeth And Adapter For KOM PC60PC1250
Unitooth For KOM WA30WA600
Ripper Teeth for KOM
Conical Teeth And Adapter For ESCO 18, 22, 25, 30, 35, 40, 45, 50, 55
Super Conical Teeth And Adapter For ESCO: 36, 46, 56, 66, 76, 86
Helilok teeth And Adapter For ESCO: 21, 27, 37, 47, 57
Ripper Teeth For ESCO: 22, 25, 35, 39
Teeth And Adapter For H & L: 23, 24
Teeth For HENSLEY: 156, 220, 290, 310, 330, 370, 400, 410, 550
Teeth And Adapter For Volvo
Of course, you can give us the drawings of products to make new type. If you have any question , pls contact us.