3G 4G h.265 h.264 iptv encoder support 1 channel HD/CVBS input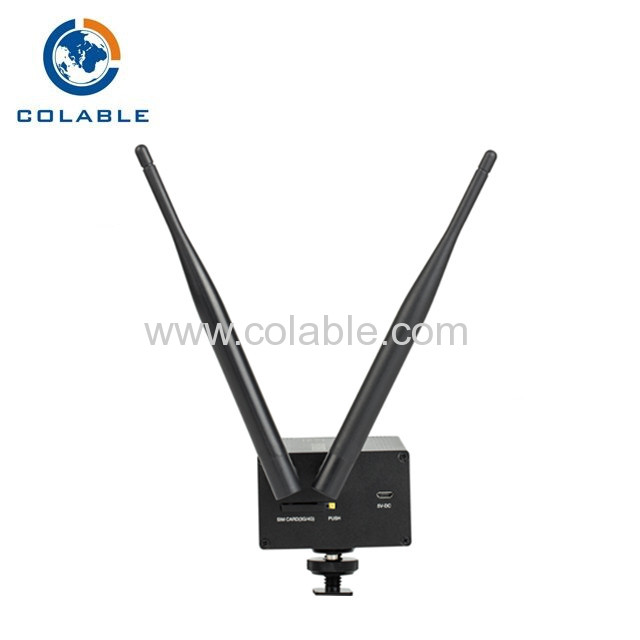 Outline
COL-8201HG 3G/4G HDMI H.265/H.264 Encoder is our most competitive cost and easy-to-use video
streaming appliance designed for professional video producers . The product support 1 channel HDMI
& 1 audio input, Encoding out dual stream of h.265 /H.264 with MP3/ AAC audio format. From any HD
MI input source such as a camera or switcher, it generates an H.265/H.264-encoded stream compliant
with RTSP, RTP, HTTP, UDP and RTMP protocols. The product can be applied to education, health
care, IPTV, conference, remote education, news interview, banking, transportation and other industries.
Features
1. 3G/4G for Mobile/ Unicom / telecom network (optional)
2. 1 channel HDMI & 1 audio input,
3. Support HLS &SDK
4. Support APP on Mobile phone
5. Support Wifi & auto research hot spot
6. Support lithium Battery
7. Support non-signal encoding
8. Support TS with Audio Alone
9. Low power consumption design
10. Up to 720P, 1080P HD video input
11. System supports WINDOWS XP/VISTA/SERVER2003/SERVER2008/WIN7 32 and WIN764, LINUX
12. Supports MP3 and AAC audio format selection
13. Encoding specification: BASELINE PROFILE / MAIN PROFILE/ HIGH PROFILE
14. Support a click to restore the default configuration
15. Support STB decoding
16. Support Main TS stream and the sub TS stream can use different network protocols for transmission
(Multi-rate multi-protocol support)
17. Support multiple equipments display at the same time on a computer
18. Support network directly connected, don't need match HD collection card.
19. Providing RTSP/RTP/HTTP/RTMP/UDP protocol
20. Support H.265/H.264 and AAC audio.
21. Web control interface
22. Comply with CBR/VBR 16KBIT/S~12MBIT/S standard
Technical Specification
Video

Input

1 channel HDMI input

Resolution

1920x1080p/1920x1080i/1280x720p/720*576i/720*576p/640*480i

Encoding standard

H.265/H.264

Encoding

H.265 MAIN PROFILE

H.264 BASELINE PROFILE

H.264 MAIN PROFILE

H.264 HIGH PROFILE

Bitrate mode

CBR/VBR 16KBIT/S~12MBIT/S

GOP type

Adjustable

Video

preprocessing

De-interlacing, noise reduction, sharpening

OSD

Image, word

Audio

Encoding

AAC,MP3

Resample Rate

Adaptive output sample rate (option)

32K, 44.1K, 48K, 64K, 96K, 128K, 160K, 192K

Sampling

32000,44100,48000

Bitrate

64Kb/s~384Kb/s

System

RJ45

1000M Ethernet port

Protocol

HTTP,UDP,RTSP,RTMP,ONVIF

Configuration

interface

WEB interface

Upgrade

Software upgrades remoted

Environment

Dimensions

(W×D×H): 103mm x 70mm x 25mm

Net Weight

0.5KG

Temperature

-20℃+ 60℃

Power

Requirements

12V -2A

Power consumption

consumption

5W
Application
IPTV digital headend
Encoding programs to YouTube
Internet conferencing system video capture
Remote education video system
Hotel TV System
Hospital, Bank, transport agency system
Company Information
Colable electronics Co., Ltd is locate in city Chengdu, Sichuan province, mainscience and tech
nology R&D center of west China, also one base on Radio and TV broadcasting industry.
We are specializing on TV broadcasting for about ten years, with network building among dom
estic and overseas. Our projects relate to different areas, such as city or village coverage,hotel,
hospital,university, casino etc. Colable electronics is expert transforming television system from
analogue to digital, or building new digital system in most cost-effective way. That is the reason
why our customers choose us.
Our main products include, satellite decoder (both free and scrambled styles); MPEG2/4/H.264
SD&HD encoder; TS multiplexer, scrambler, QAM/QPSK/COFDM modulator, CAS&SMS, EPG,
DVB-C/S/T set top box, MMDS transmitter, antenna, etc.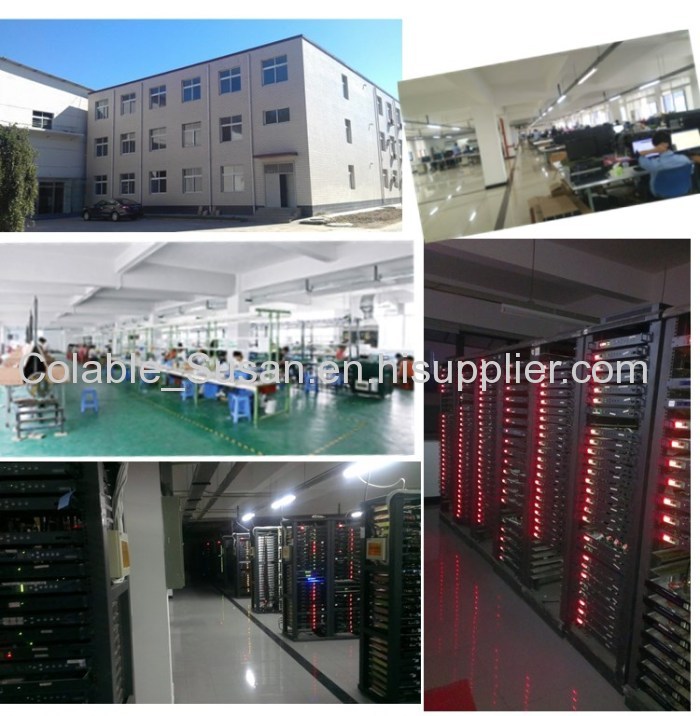 Our advantages

Exhibition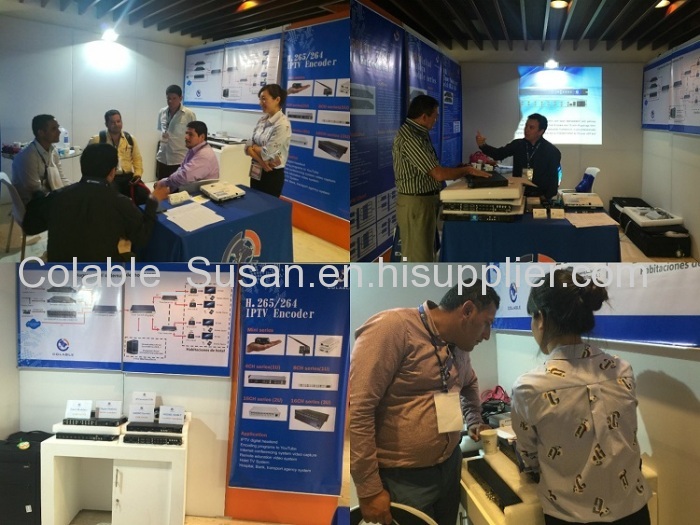 Certificate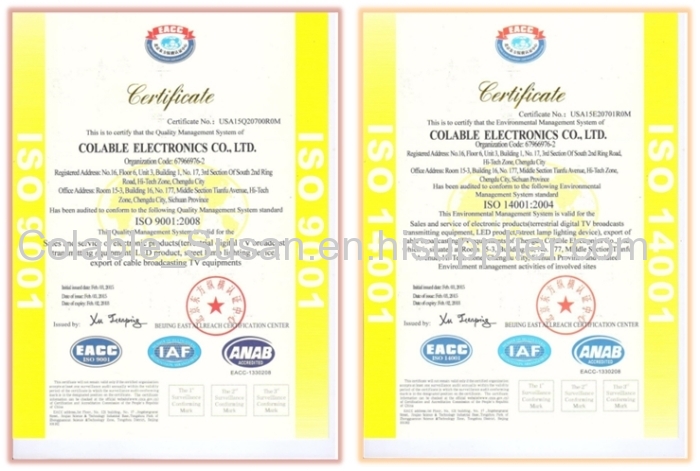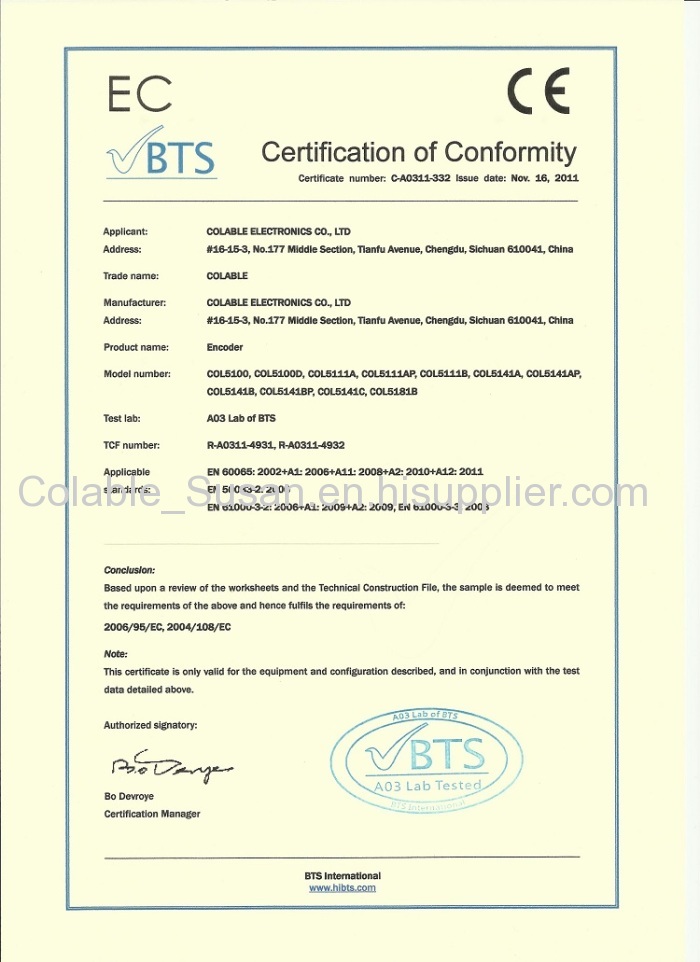 Application
Packing details
Contact Sales