professional satellite receiver ird hd qpsk demodulator with DVB-S/S2 to ip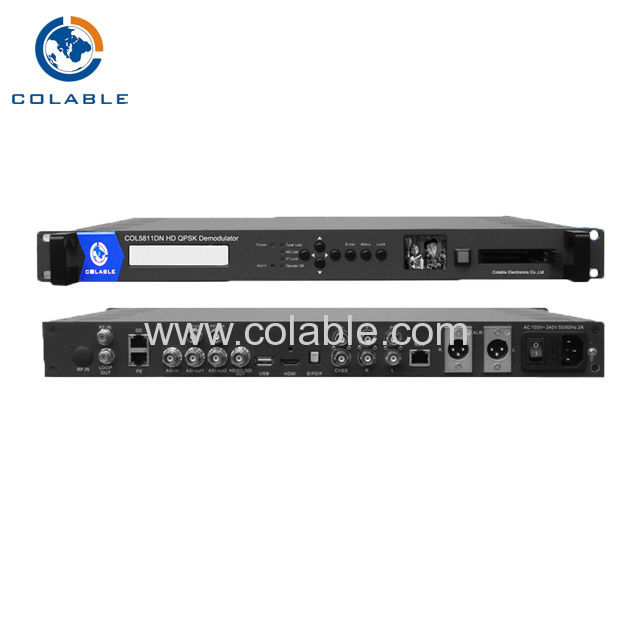 Outline
COL5811DN HD QPSK demodulator is our new design IRD with LCD video monitor equipped on
the front panel. It can receive signals from tuner (DVB-C, DVB-T/T2, DVB-S/S2, DMB-T, ISDB-T,
and ATSC-T optional), ASI and IP sources. After multiplexing and de-encryption with CAM module,
it gives content out through ASI, IP as well as various video/audio interfaces. Its video/audio outputs
support professional HD/SD-SDI, YPbPr, HDMI, stereo balanced audio, stereo unbalanced audio
and S/PDIF digital audio and CVBS, which can greatly satisfy the professional users' needs.
With the CAM slot (CI) support, The COL5811DN can support one channel (Tuner, ASI or IP)
de-scrambling and give transparent signal output. User can operate the device by using front panel
LCD or NMS/SNMP software or Webpage-based NMS. Moreover, users can choose to have an
optional ASI output which can pass through the encryption data source directly from tuner.
Features
1. Support DVB-C, DVB-T/T2, DVB-S/S2, DMB-T, ISDB-T, and ATSC-T RF Input
2. Support LCD display for decoding video
3. Various tuner standard available
4. Support MPEG-2 & MPEG-4 video decoding
5. Support AC3 pass through
6. Re-multiplexer embedded
7. Support Tuner, IP, ASI Input at the same time
8. Support IP, ASI, Decoding output at the same time
9. Support 8xSPTS/32xSPTS and1 IP MPTS output
10. Support CAM card insert (CI)
11. Support BISS descrambling
12. Support CC (Closed Caption)
13. Support Front Panel and NMS/SNMP network management and Web management
Blocks Diagram: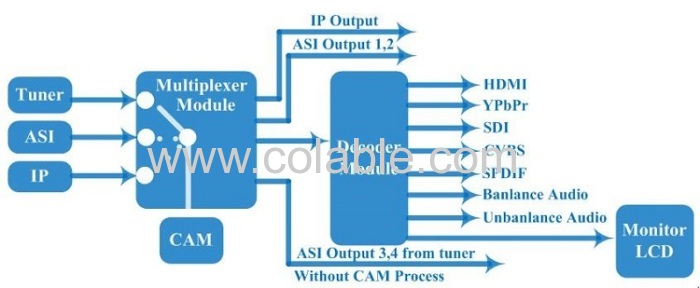 Specifications
Input Interface

Tuner

1 Tuner (DVB-C/DVB-S/ DMB-T/DVB-T/ DVB-S2/ ISDB-T/ATSC-T / DVB-T2 optional)

DVB-C: 47 MHz~860 MHz, 16/32/64/128/256 QAM

DVB-S: 950 MHz~2150 MHz, symbol rate: 2~45Mbauds

DMB-T: 146MHz ~862 MHz, 6/7/8 M bandwidth

DVB-T: 146MHz ~862 MHz, 6/7/8 M bandwidth

DVB-S2: 950 MHz~2150 MHz, symbol rate: QPSK 1~45Mbauds, 8PSK 2~30Mbauds

ISDB-T: 153 MHz ~862 MHz, 6/7/8M bandwidth

ATSC-T: 54MHz~858MHz, 6M bandwidth

DVB-T2: 44MHz ~1002 MHz, 6/7/8 M bandwidth

ASI

1 ASI IN(support 188/204 package format)

IP

1 IP over UDP, RTP/RTSP (100M, RJ45 Port)

Output

ASI Output

2 ASI output(after multiplexer)

2 ASI output(tuner input pass through)

IP output

(UDP, RTP/RTSP)

1 MPTS output

8 SPTS output

Video Output

1xCVBS(BNC): 576i(at)25fps, 480i(at)29.97fps

1xYPbPr(BNC): 1080i(at)25, 29.97, 30fps; 720p(at)50, 59.94fps

1xHD/SD-SDI(BNC): 1080i(at)25, 29.97, 30fps; 720p(at)50, 59.94fps; 576i(at)25fps; 480i(at)29.97fps

1 x HDMI: 1080i(at)25, 29.97, 30fps; 720p(at)50, 59.94fps

Audio Output

Stereo unbalanced audio: BNC interface

Stereo balanced audio: XLR interface

Digital audio: SPDIF

Video Decoding

MPEG-2, MPEG-4 (4:2:0)

Audio Decoding

MPEG1 layer 2, AC3, HE-AAC(v2), LC-AAC

NMS Port

Ethernet Port

10/100M

Protocols

TS Over IP: UDP

NMS: TCP/IP

System

Management: front panel (LCD + Keyboard);

Network (NMS/SNMP);

Web Management

English and Chinese interface conversion

Ethernet port for CPU/FPGA upgrade

USB port for decoder upgrade

LCD Monitor for decoding video

Miscellaneous

Dimensions

482mm*455mm*44.5mm ( L×W×H)

Approx weight

3.2kg

Power

<20W(Max)

Temperature

0~45℃(Operating), -20~80℃(Storage)
Company Information
Colable electronics Co., Ltd is locate in city Chengdu, Sichuan province, mainscience and tech
nology R&D center of west China, also one base on Radio and TV broadcasting industry.
We are specializing on TV broadcasting for about ten years, with network building among dom
estic and overseas. Our projects relate to different areas, such as city or village coverage,hotel,
hospital,university, casino etc. Colable electronics is expert transforming television system from
analogue to digital, or building new digital system in most cost-effective way. That is the reason
why our customers choose us.
Our main products include, satellite decoder (both free and scrambled styles); MPEG2/4/H.264
SD&HD encoder; TS multiplexer, scrambler, QAM/QPSK/COFDM modulator, CAS&SMS, EPG,
DVB-C/S/T set top box, MMDS transmitter, antenna, etc.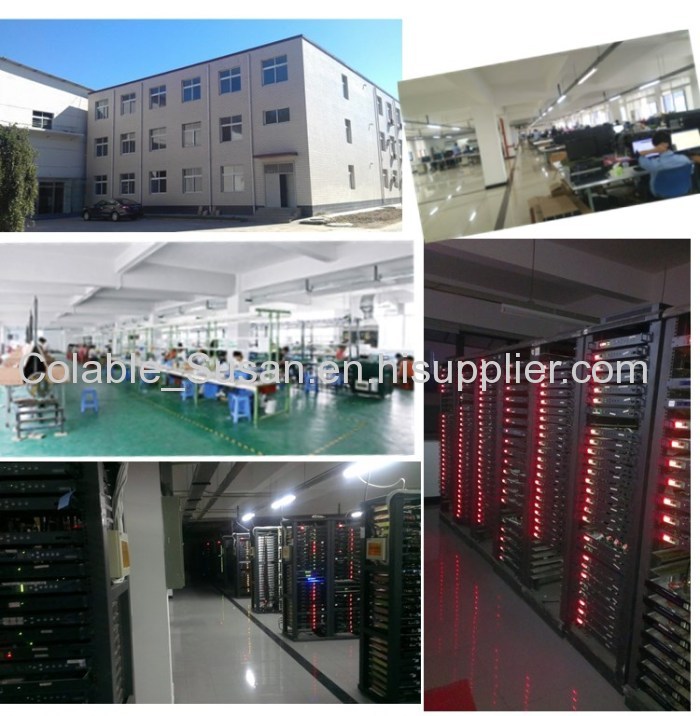 Our advantages

Exhibition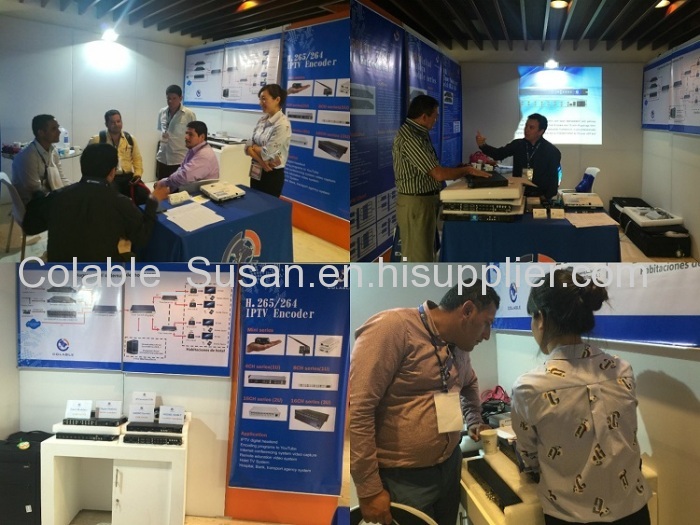 Certificate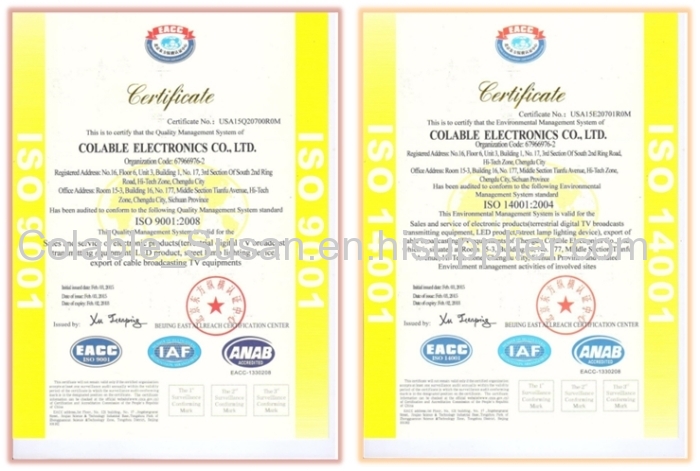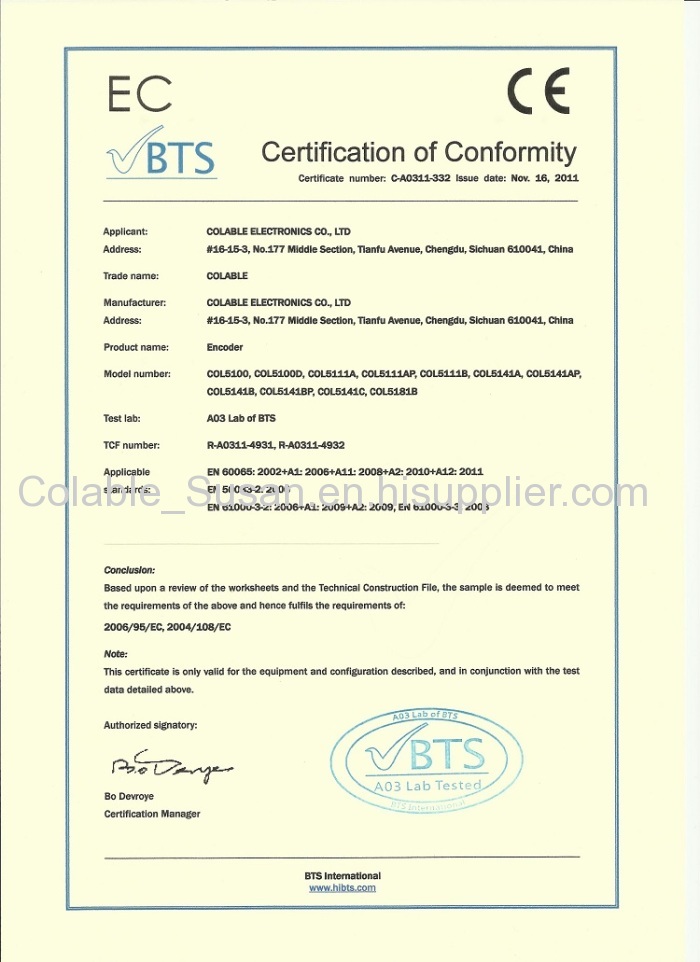 Application
Packing details
Contact Sales