4/8 ch hdmi isdbt atsc encoder modulator for Hotel TV System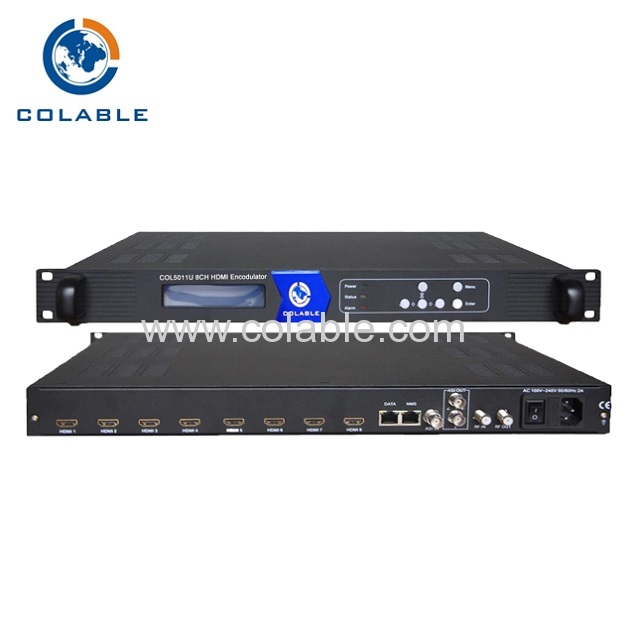 Outline
This 4/8CH HD Encodulator is a professional HD and SD audio & video encoding and
multiplexing device with powerful functionality. It has 4/8 channel HD input interfaces,
supporting MPEG4AVC/H.264 High Profile code format. This device can simultaneously
encode 4/8 channel HD programs; moreover, it has an ASI input and can multiplex the
input TS with the 4/8 encoded SPTS to generate a MPTS output. Also, the PSI/SI information
can be inserted into MPTS output. In conclusion, its highintegrated and cost effective design
makes the device widely used in varieties of digital distribution systems such as CATV digital
head-end, satellite and terrestrial digital TV, etc.
Main Features
1. 4/8×HD HD/SD video inputs
2. 1× ASI input interface
3. Low Latency Encoding
4. Lower Resolutions Output
5. Support MPEG4AVC/H.264 igh Profile code format
6. PSI/SI editing and inserting
7. PID remapping and passthrough
8. Support CBR/VBR video bitrate mode
9. Support 1080i,1080P,720P,576i,480i video format
10. Outputs multiplexed MPST ASI
11. 4*DVB-C RF output
12. Support IP out(UDP/RTP/RTSP protocol,SPTS)
13. Support IP null packet filter
14. Support Web monitoring
15. Support SNMP Ethernet software upgrade
16. LCD display
Technical Specifications
Input

4/8HD inputs

1×ASI input( BNC interface)

1RF input

Video

Resolution

1920×1080_60p 1920×1080_50p

1920×1080_60i, 1920×1080_50i

1280×720_60p, 1280×720_50p

720×480_60i, 720×576_50i(D1)

544×480_60i, 544×576_50i(3/4D1)

352×480_60i, 352×576_50i(HD1)

480×480_60i, 480×576_50i(2/3D1)

Encoding

MPEG4 AVC/H.264 High Profile Level 4.0 for HD and SD

Bit-rate

0.8Mbps~19ps (each channel)

Rate Control

CBR/VBR

GOP Structure

IBBP

Advanced Pretreatment

De-interlacing, noise reduction, sharpening

Audio






Sampling rate

48KHz

Resolution

24-bit

Bit-rate

64Kb/s~384Kb/s each channel

Multiplexing

Multiplex 1ASI input and 8 channels hd encoding programs

Stream output

2×ASI outputs, BNC interface(support PID filter and pass, support real time monitoring of the output stream.)

Low Latency Encoding

Lower Resolutions Output

IP out SPTS(UDP,RTP,RTSP),support IP out null packets filter.

RF out (DVB-C 4RF, DVB-T 2RF,

ISDB-T 1RF, ATSC 4RF)

Modulator Section

standard

J.83A,J.83B,J.83C

MER

>42dB

RF Frequency

30~999MHz,1KHz step

RF output level

(80dbuv~115dbuv),0.1db step

Symbol Rate

5.0~9.0Msps

RF carrier

4 carrier

J.83A

Constellation

16/32/64/128/256QAM

bandwidth

8M

J.83B

Constellation

64QAM,256QAM

bandwidth

6M

J.83C

Constellation

64QAM,256QAM

bandwidth

6M

System function

LCD/keyboard operating, web based management software, English control interface

SNMP Ethernet software upgrade

General

Dimensions

(W×D×H)

482mm×455mm×44.5mm

Approx weight

3.5Kg

Temperature range

0~45℃(Operating), -20~80℃(Storage)

Power Requirements

AC 110V±10%, 50/60Hz or AC 220V±10%, 50/60Hz

Power consumption

65W
Order reference:
| | | |
| --- | --- | --- |
| | 4channels | 8channels |
| DVB-C | COL5011U-4HC | COL5011U-8HC |
| DVB-T | COL5011U-4HT | COL5011U-8HT |
| ATSC | COL5011U-4HA | COL5011U-8HA |
| ISDB-T | COL5011U-4HI | COL5011U-8HI |
Company Information
Colable electronics Co., Ltd is locate in city Chengdu, Sichuan province, mainscience and tech
nology R&D center of west China, also one base on Radio and TV broadcasting industry.
We are specializing on TV broadcasting for about ten years, with network building among dom
estic and overseas. Our projects relate to different areas, such as city or village coverage,hotel,
hospital,university, casino etc. Colable electronics is expert transforming television system from
analogue to digital, or building new digital system in most cost-effective way. That is the reason
why our customers choose us.
Our main products include, satellite decoder (both free and scrambled styles); MPEG2/4/H.264
SD&HD encoder; TS multiplexer, scrambler, QAM/QPSK/COFDM modulator, CAS&SMS, EPG,
DVB-C/S/T set top box, MMDS transmitter, antenna, etc.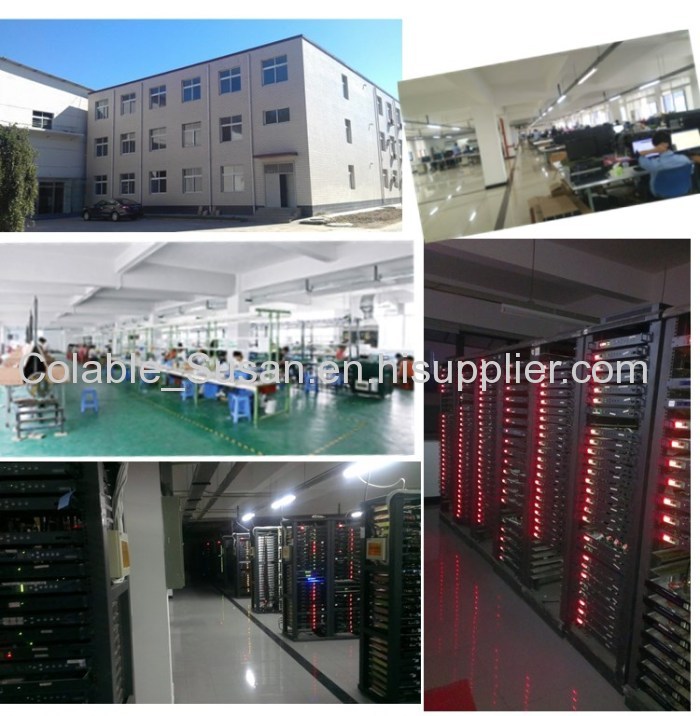 Our advantages

Exhibition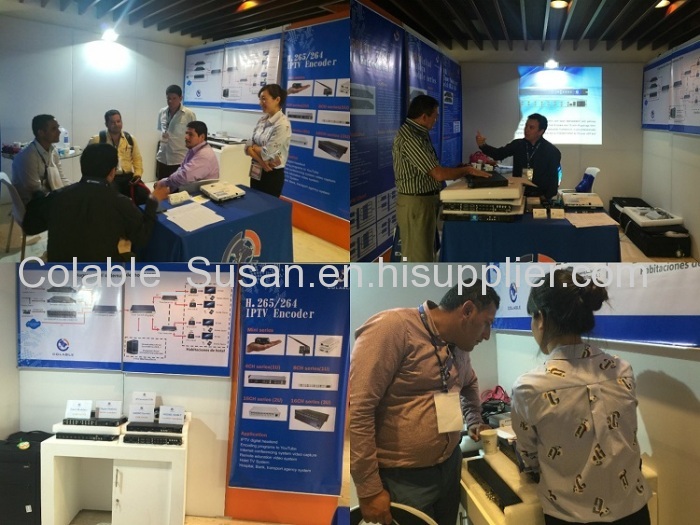 Certificate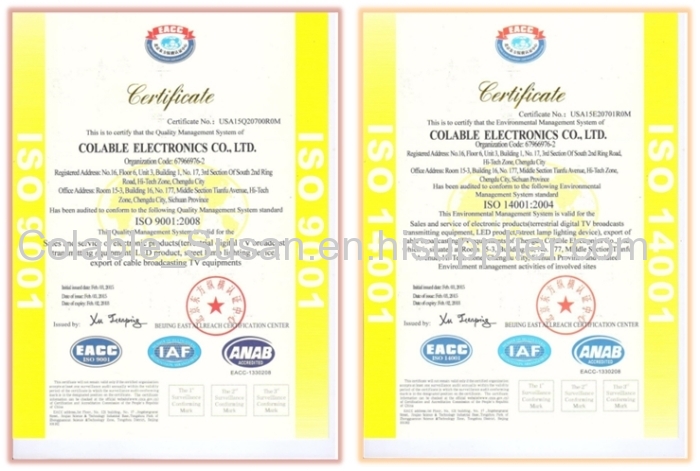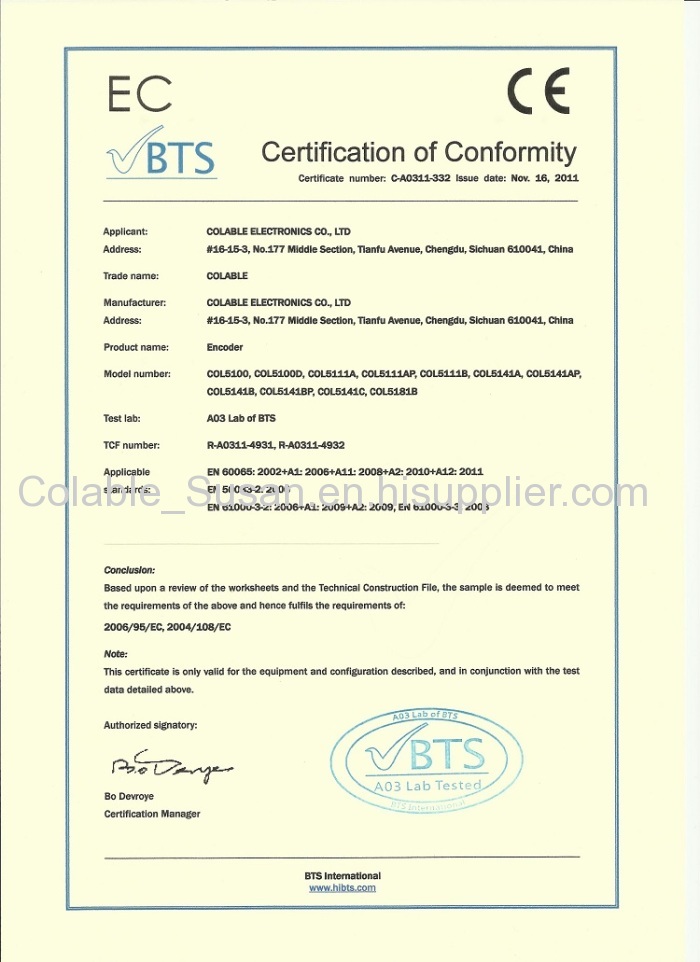 Application
Packing details
Contact Sales