5" Full Bore Mechanical Setting Retrievable Packer 10000 psi Working Pressure
DST 5" Casing DST RTTS Packer
General of the Well testing casing packer
The well testing packer is a kind of retrievable packer with mechanical setting and large bore to pack off bi-directional pressure in the hole. In Halliburton, the retrievable packer is named RTTS packer, the RTTS packer is designed to perform a variety of functional jobs in one-time descenting down hole for formation testing, acidizing, cementing plugs and other operations.
Specification of the DST casing packer
No

Specifications

5"

1

Casing Weight Range(lb/ft)

21.4-23 lb/ft

2

Packer Ring OD

96.8-94.7 mm

3

Drift Gauge OD

98-96 mm

4

Min. ID of tool

45 mm

5

Length

1226 mm

6

Pressure differential across the pacing ring

70MPa

7

Internal Yield Pressure strength

(Bursting pressure)

124 MPa

8

External Yield Pressure strength

(Collapse Pressure)

116MPa

9

Tensile Strength(Yield)

652KN

10

Torque Strength

8.5 KN·m

11

Service environment

Mud, Crude Oil, Natural gas with H2S

12

Service temperature

--29oC~+204oC

13

End connections

33/32-10UN. B x 2 7/8 UP Tubing. P 2 7/8 UP Tubing BXP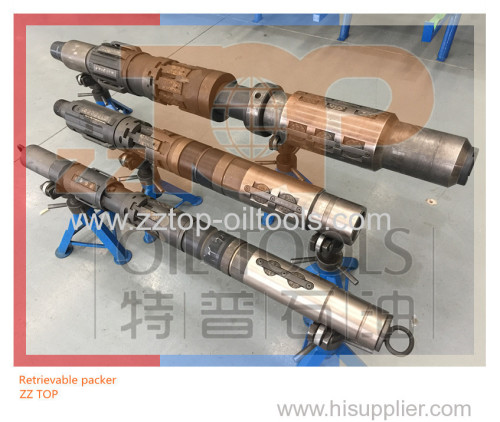 The DST we manufacture include:
Round Mandrel Slip Joint, Tubing String Tester Valve (TST), OMNI Valve(Multi Circulating Valve), Rupture Disk Safety Circulating Valve, Rupture Disk (RD) Sampler, Drain Valve, Select Tester Valve, LPR-N Valve, Gauge Carrier, Hydraulic Circulating Valve, Hydraulic Jar (Big John Jar/ BJ jar), RTTS safety joint, RTTS Circulating Valve, RTTS Packer, Champ packer, Radial shock absorber, Vertical shock absorber.
About ZZ TOP Oil Tools
ZZ TOP joint with the professional facotry to design and manufacture the DST tools for about ten years, and all our engineers are skilled with more than fifteen years experience, also we can supply the best technical service including training, instruction on the site and so on.
We insist in supplying high quality and cost-effective products and best service to meet your requirements. Should any drill stem testing tools be of interest to you, contact me freely.