This Model is a high-end color Doppler HCU (Hand-Carried Ultrasound). This system clearly expresses the words of "an ever-higher standard of Echo HCU'. Although THIS MODEL is a HCU system, its performance is equal to high-end cart-based echo ultrasound systems.Systemic applications include abdomen, obstetrics, gynecology, blood vessels, small organs, urology, neonates and pediatrics. Includes scanning modes such as B / CFM / PDI / PW / CW / M and provides excellent resolution and sensitivity. Support convex array probe, linear array probe, convex probe, cavity probe, phased array probe, 4D probe. Integrated network ultrasound workstation, support for DICOM transmission. Using embedded computing XP system, the system is safe, The integration stable and high-speed operation.
• This flagship HCU is incorporated with high configuration to meet the strictest requirements from small-organ 12 MHz linear transducer, 128 super high density transducers, 4D imaging function, and so on;
• HCU design with two transducer sockets;
• 15″LCD monitor with super large imaging area;
• Full vascular transducers: High frequency micro-convex array, High-frequency linear, etc;
• High density transducers with frequency ranges from 2.0 to 12MHz;
• Integrated with state-of-the-art technologies, like μ-scan technology, IMT, multiple-beam processing;
• Comprehensive image analysis kits: THI, Steer M, Color M; trapezoid image, etc;
• Full patient database solutions: DICOM3.0, AVI/JPG, USB2.0, HDD, PDF report, etc;
• Automatic measurement and analysis vascular intima;
• Optional 3D or 4D imaging;
• Optional built-in Li-ion battery.
Color Doppler Portable Ultrasound Diagnostic Equipment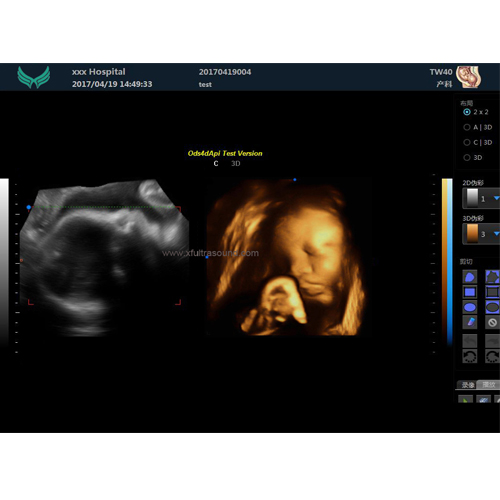 Probe parameters

--Convex: R60 (R50) Center frequency 3.5MHz (range: 2-6MHz)
--Linear: Center Frequency 7.5MHz (Range: 5-12MHz)
--High-frequency Linear : Center frequency 9MHz (range: 5-13MHz)
--Cavity probe(TVS): center frequency 6.5MHz (range: 5-10MHz)
--Micro-convex: center frequency 3.5MHz (range: 3-6MHz)
--High-frequency micro-convex probe: the center frequency of 5MHz (range: 4-8MHz)
--Phased array probe: 3 MHz (range: 2-5MHz)
--4D probe : Center frequency 3 MHz (range: 2-5MHz)
Operation Mode
--B/2B/4B/M/CFM/PDI/PW/CW
--THI(Tissue Harmonic Imaging)
--TI(Trapezoidal Imaging)
--Real-time 2D and Color Dual Mode.
--Real-time 2D and Doppler Double Synchronization.
--Real-time 2D ,Doppler and Color triple synchronization.
--Free hand 3D imaging
--Four-dimensional Imaging (4D) (Optional)
--Extended imaging
--Compound Imaging
--Probe Interface:
--Two Active Probe Interface
--Multimedia and peripheral devices:
--Compact Disc-Recordable,USB portable storage device.
--Digital Printer / Video Printer / Laser Printer / Ink-Jet Printer
Memory Function:
Image Storage,Video Storage,Cineloop(≥300 Fram),Solid disk storage space≥120G.
Puncture guide line:
All kinds of probes can register puncture guide line function.
The puncture guide line Angle adjustable and can be pre-defined.
Language:
Chinese, English, Russian, Spanish, Portuguese, French.
Ultra-sonography
High-precision digital continuous beamformer: The fine ultrasonic beam control effectively removes the side-lobe noise, greatly improves the spatial resolution and contrast resolution, and exquisitely displays the entire organizational structure.
Dynamic Frequency Fusion Imaging Technology: Adaptive control of the near field to the far field of the launch, receiving frequency, strong penetration and high-resolution images are the perfect combination.
High-precision delay point-by-point dynamic receiver focus: Point-by-point high-precision delayed focusing on the entire image, showing real, delicate organizational information.
Ultra-wideband imaging technology: According to different characteristics of the crowd, you can choose the best center frequency.
Adaptive image optimization processing technology: Based on the currently received tissue signals, digital parameter optimization is automatically performed to present a more perfect ultrasound image.
THI tissue harmonic imaging technology: Ultrasonic emission at a lower frequency, and receive the echo signal of the second harmonic signal imaging, to ensure good penetration at the same time, enhance tissue imaging resolution, and to maximize the elimination of artifacts.
Precise SRI adaptive speckle noise suppression An adaptive speckle noise suppression algorithm based on precise image recognition not only smoothes speckle noise but also preserves the features of tissue structure.
Color Doppler Portable Ultrasound Diagnostic Equipment
Measurement / Calculation
General Measurement:
--B mode: distance, area (track method, rectangle method, ellipse method), perimeter (track method, rectangle method, ellipse method), volume (double plane method, area length method, ellipsoid method), angle, ratio, stenosis rate.
--M Mode:Slope, ratio, stenosis rate, heart rate, time.
--D Mode:Doppler blood flow measurement, velocity, acceleration, pressure gradient, time, velocity integral, pulsatility index, resistance index.
--Gynecological measurement and analysis
--Uterus, endometrium, ovary, cervix, follicle measurement.
Obstetric measurement and analysis:
GS gestational sac, CRL head and hip diameter, LV spine length, BPD biparietal diameter, OFD Occipital bone frontal bone diameter, HC head circumference, TAD transverse abdominal diameter, LVW lateral ventricular posterior angle width, HW cerebral hemisphere width, TCD cerebellar lateral diameter , IOD intraocular diameter, OOD external eye distance, BD binocular distance, APTD DBH, TTD transverse DBH, AC abdominal circumference, APD antecedent abdominal diameter, FTA trunk cross-sectional area, HL humerus length, ULNA ulna length, RAD radial length, FL Length of femur, length of tibia, length of fibula of FIB, multiple calculation of APTDxTTD, length of clavicle of clavicle, dysplastic hip (measured hip angle), etc. The gestational age, fetal weight and expected date of birth can be calculated.
Urology measurement and analysis:
Prostate volume, bladder volume, residual urine volume, volume of prostate transitional area, hip angle measurement and assessment (neonatal hip dislocation diagnosis), cross-sectional measurement (V-Slice method).
Small Organs and Peripheral Blood Vessel Measurement and Analysis:
The main measurement and analysis of vascular cross-sectional area, heart rate, per volume, flow per unit time, ejection time, stenosis rate, average velocity of blood flow, RI resistance index, PI pulsatile index.
Measurement report:
Obstetric measurement report, gynecological measurement report, cardiac measurement report, urinalysis and other measurement reports. Automatically store measurement results and generate reports
symbol:
≥95 kinds of symbol position markers with probe position.
Through the intuitive body mark detail interface quickly select the body mar.
Text markup, presettable text content.
Arrow mark, support multiple arrow marks and adjustable direction.
General Specifications:
--Size and weight: 470mm(L)* 335mm(W)* 560mm(H)/ 11 KG
--power source: 19V,10A DC IN, Support battery power
--Optional battery:10Ah,14.4V.
--Battery Operating Time:2 hours Standby time: ≥3.5 Hous
--Displayer: 15 inch high brightness and high contrast LCD
--Range of application: Systemic applications include abdominal, obstetric, gynecological, cardiac, vascular, urinary, small organ, breast, pediatric and neonatal imaging, fetal heart imaging, puncture, etc.