The price above is not the final price.
Pls contact me on Skype/Wechat( +8618102709482)
Neware
Since 1998, Neware has been committed to providing world-class testing solutions for the batteries and capacitors. We adopt SAP as our ERP system and comply with ISO9000 quality management standard. Our factory spans over 8,000 square meters in industrial park, Shenzhen office spans over 2,000 square meters, housing all R&D, Engineering, Sales and CRM personnel. To explore international market, we launched Hong Kong and France offices in 2011.
Product Series:
· BTS-4000 Battery Tester for Coin Cell Battery, Cylindrical Battery
· BTS-7000 Battery Tester for Pack Battery
· BTS-8000 Battery Tester for Power Battery
· BTS-9000 Battery Tester for Battery Material Research
BTS 4000 Introduction
BTS 4000 entered into market in the year of 2008. Now it is one of the most successful and most popular battery testing system in China. Thousands of battery manufacturers, battery research institutes and laboratories use it as their primary testing partner for their various testing activities.
BTS 4000 is based on Neware forth generation testing system, applied for coin cell battery, cylindrical battery, pouch cell, battery module.
Application:
Capacity Test

DCIR Test

Pulse Test

Charge (CCC, CVC, CCCVC, CPC)

Discharge (CCD,CPD,CRD)

Cycle Life Test

Formation & Grading

Over-charge, Over-discharge
_Device Display_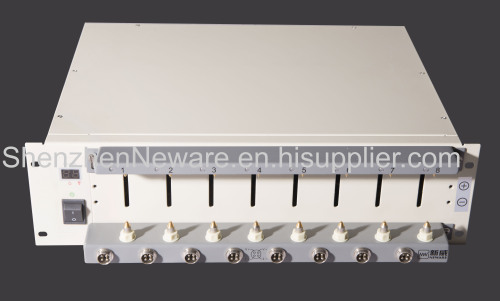 _Accessories_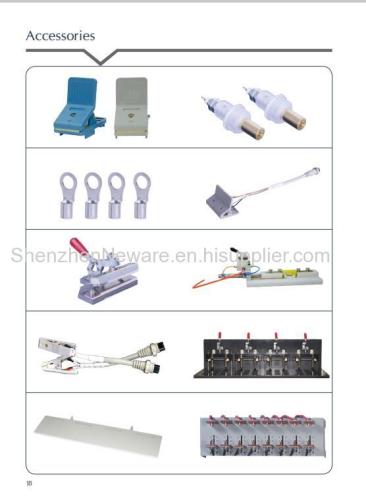 Testing Steps and Parameter Setting:

CCD

(constant current discharge)

CCC

(constant current charge)

CVC

(Constant voltage

Charge)

CVD

(Constant voltage discharge)

Cycles

Capacity, voltage, time, current limit, Max Vi, Min Vi, Max Ti, Min Ti

-∆V, Capacity, voltage, time, current limit, Max Vi, Min Vi, Max Ti, Min Ti

Capacity, voltage limit, time, current, Max Vi, Min Vi, Max Ti, Min Ti

Capacity, voltage limit, time, current, Max Vi, Min Vi, Max Ti, Min Ti

Cycle start step, cycle times

CPD

CPC

CRD

CCCVC

Rest

Power, time, voltage

Power, time, voltage

Load, time, current

Capacity, time, cut-off current

Time limit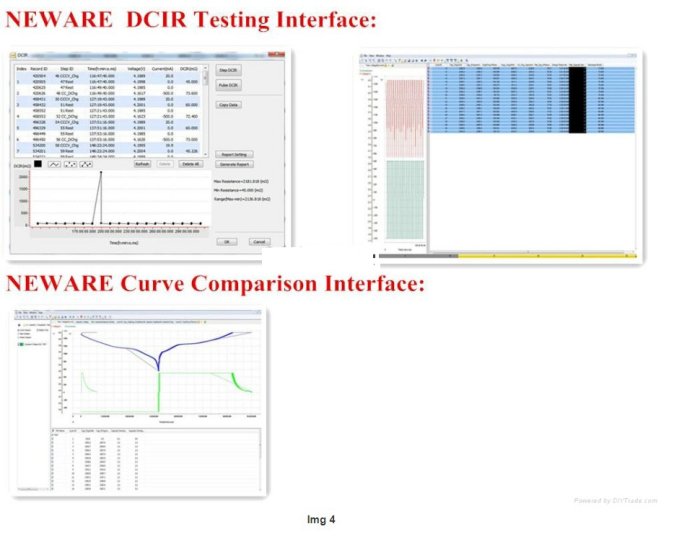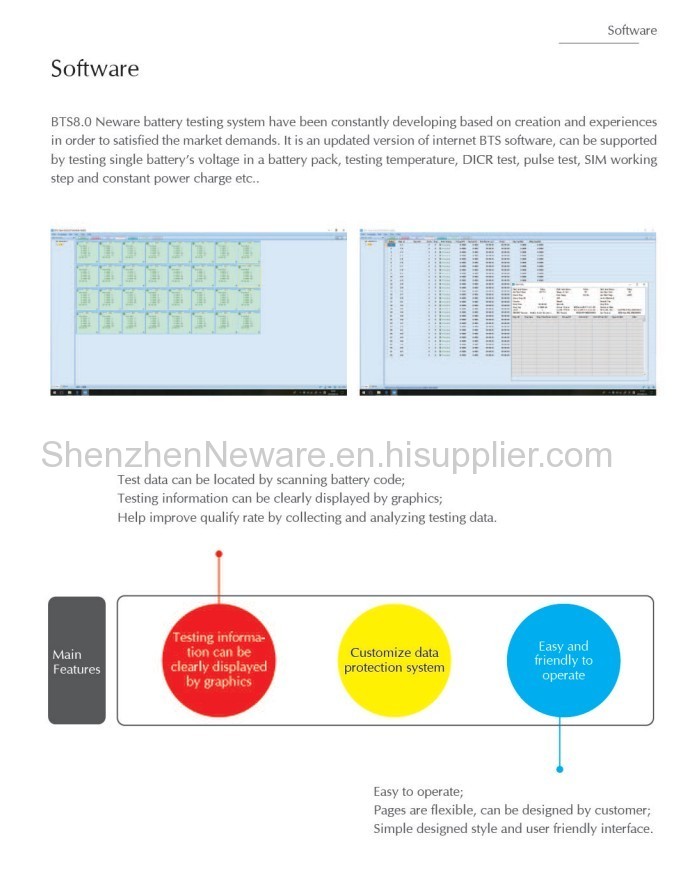 Software Features:
1. Each channel available for dependent program testing, Step is continuable after Pause in any conditions (including blackout).
2. Host computer adaptable to all kinds of lower machine, with interactive interface, easy to operate.
3. Fast data acquisition, sensitive to the changing of current & voltage, (AD,16bit), dairy function available.
4. Powerful for data and chart processing, support four types of report with various form formats.
5. As an added bonus, professional tool software would be provided free of charge.
Customer Group:
Domestic: Tsinghua University, Peking University, Fudan University, Central South University, Zhejiang University, etc.
International: University of Waterloo, Stanford University, Mitsubishi, Philips, and Oxford University, the University of Sydney, etc.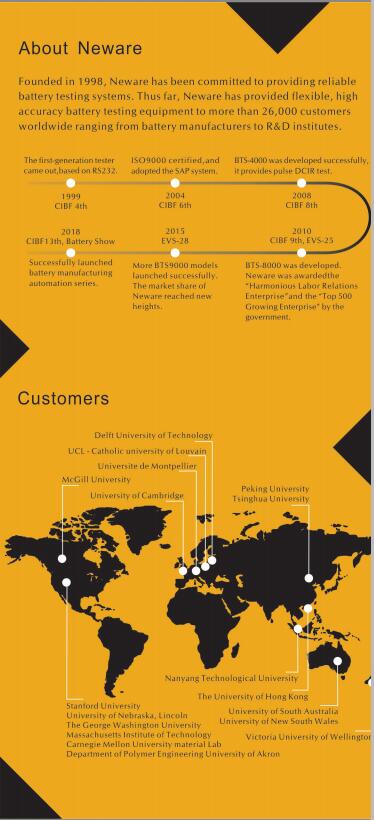 Service:
Instant reply to customers needs within 24 hours.

Urgent need within 2 hours.

Confidentiality agreement to all related technical and business information.

Remote guidance on Phone/ the Internet.

Accuracy calibration

Resident technical engineer

Dust removing and maintenance