The XF3600-3D color doppler ultrasound diagnostic instrument consists of a host (software version: E60.v1), a 15-inch Sharp color LCD display and 160G solid state hard disk, a power adapter and a probe.3D image reconstruction is a software reconstruction of dozens or hundreds of frames of images collected by the software, so it has a great relationship to the scanning technique of the doctor (the average speed translation scan of the probe)!3D image is a rotatable stereo image reconstructed on the basis of 2D image by multi-frame image according to certain algorithm.
3D Color Doppler Ultrasonic Diagnosiitc System
Main Feature of CFM:
1) it can quickly and intuitively display the two-dimensional plane distribution of blood flow.
2) the direction of blood flow can be displayed.
3) it is helpful to distinguish arteries and veins.
4) it is helpful to identify vascular lesions and non-vascular lesions.
5) it is helpful to understand the nature of blood flow.
6) it is convenient to know the time phase and speed of blood flow.
7) can reliably detect shunt and reflux.
8) the origin, width, length and area of the blood stream bundle can be quantitatively analyzed.
Operation Mode:
-B/2B/4B/M/CFM/PDI/PW
-THI(Tissue Harmonic Imaging)
-Real-time 2D and Color Dual Mode.
-Real-time 2D and Doppler Double Synchronization.
-Real-time 2D ,Doppler and Color triple synchronization.
-Free hand 3D imaging(Optional)
-Four-dimensional Imaging (4D) (Optional)
-Extended imaging
-Compound Imaging
-Probe Interface:Two Active Probe Interface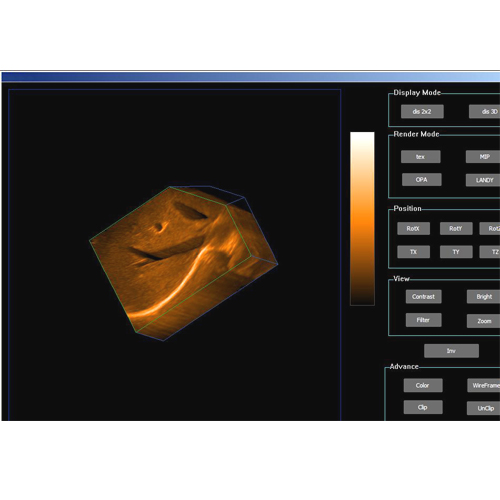 -Multimedia and peripheral devices:Compact Disc-Recordable,USB portable storage device.
-Digital Printer / Video Printer / Laser Printer / Ink-Jet Printer
-Memory Function:Image Storage,Video Storage,Cineloop(≥300 Fram),Solid disk storage space≥120G.
-Puncture guide line:All kinds of probes can register puncture guide line function.
-Automatic measurement and analysis of vascular intima.
-The puncture guide line Angle adjustable and can be pre-defined.
-Language:Chinese, English, Russian, Spanish, Portuguese, French.
-Ultra-sonographyHigh-precision digital continuous beamformer: The fine ultrasonic beam control effectively removes the side-lobe noise, greatly improves the spatial resolution and contrast resolution, and exquisitely displays the entire organizational structure. Dynamic Frequency Fusion Imaging Technology: Adaptive control of the near field to the far field of the launch, receiving frequency, strong penetration and high-resolution images are the perfect combination.High-precision delay point-by-point dynamic receiver focus: Point-by-point high-precision delayed focusing on the entire image, showing real, delicate organizational information.Ultra-wideband imaging technology: According to different characteristics of the crowd, you can choose the best center frequency.Adaptive image optimization processing technology: Based on the currently received tissue signals, digital parameter optimization is automatically performed to present a more perfect ultrasound image.
-THI tissue harmonic imaging technology: Ultrasonic emission at a lower frequency, and receive the echo signal of the second harmonic signal imaging, to ensure good penetration at the same time, enhance tissue imaging resolution, and to maximize the elimination of artifacts.
Precise SRI adaptive speckle noise suppression An adaptive speckle noise suppression algorithm based on precise image recognition not only smoothes speckle noise but also preserves the features of tissue structure.
3D Color Doppler Ultrasonic Diagnosiitc System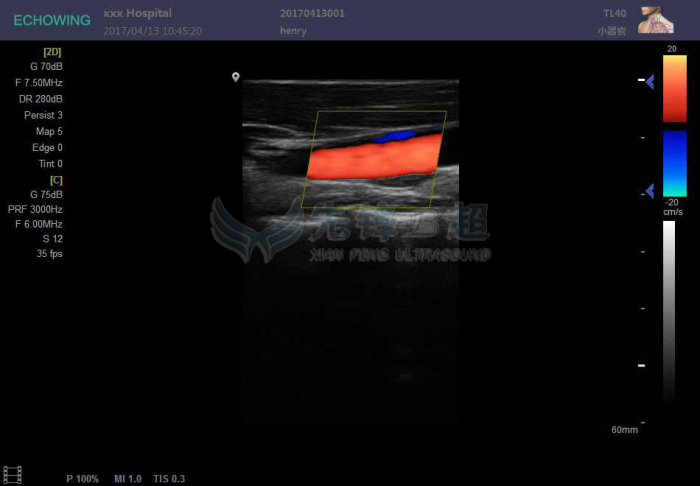 Configuration probe(optional):
The configuration probe of the instrument showed as below:
| | | | | | | |
| --- | --- | --- | --- | --- | --- | --- |
| Type | Scan model | Frequency range | | radius of curvature | Scan width | Scan angle |
| TC60A | Convex | 2.0MHz~5.0MHz | | R60mm | _ | 60° |
| TL40A | Linear | 5.0MHz~12.0MHz | | _ | L40mm | _ |
| TC10A | Cavity | 5.0MHz~8.0MHz | | R10mm | _ | 150° |
| TC20A | Micro-convex | 2.0MHz~4.0MHz | | _ | _ | 90° |
General Specifications:

-Package Size and weight: 470mm(L)* 335mm(W)* 560mm(H)/ 11 KG
-power source: 19V,10A DC IN, Support battery power
-Optional battery:10Ah,14.4V.
-Battery Operating Time:≥2 hours Standby time: ≥3.5 Hous
-Displayer: 15 inch high brightness and high contrast LCD