The Echo60Plus( 4D) is high cost-effect doppler ultrasound diagnosis system,the appearance is elegant and compact for easy carry .high resolution imaging capbility and support 4D imaging. this model adopts the current advanced synchronous driven volume probe and 4D software to imaging, and stabilizes the image scan by the probe in real time. It can observe the facial expressions of the fetus in real time and leave precious growth record video for people.
4D color doppler ultrasound diagnostic system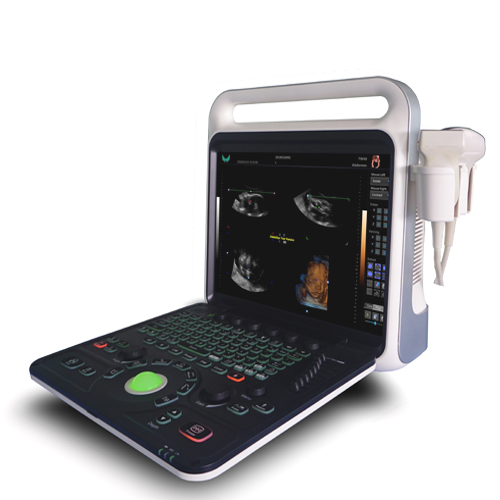 Main Feature:
Systemic applications include abdomen, obstetrics, gynecology,blood vessels, small organs, urology, neonates and pediatrics. Includes scanning modes such as B / CFM / PDI / PW / CW / M and provides excellent resolution and sensitivity. Support convex array probe, linear array probe, convex probe, cavity probe, phased array probe, 4D probe. Integrated network ultrasound workstation, support for DICOM transmission. Using embedded computing system, the system is safe, stable and high-speed operation into one.
Measurement / Calculation
--General Measurement:
--B mode: distance, area (track method, rectangle method, ellipse method), perimeter (track method, rectangle method, ellipse method), volume (double plane method, area length method, ellipsoid method), angle, ratio, stenosis rate.
--M Mode:Slope, ratio, stenosis rate, heart rate, time.
--D Mode:Doppler blood flow measurement, velocity, acceleration, pressure gradient, time, velocity integral, pulsatility index, resistance index.
--Gynecological measurement and analysis
Uterus, endometrium, ovary, cervix, follicle measurement.
--Obstetric measurement and analysis:
GS gestational sac, CRL head and hip diameter, LV spine length, BPD biparietal diameter, OFD Occipital bone frontal bone diameter, HC head circumference, TAD transverse abdominal diameter, LVW lateral ventricular posterior angle width, HW cerebral hemisphere width, TCD cerebellar lateral diameter , IOD intraocular diameter, OOD external eye distance, BD binocular distance, APTD DBH, TTD transverse DBH, AC abdominal circumference, APD antecedent abdominal diameter, FTA trunk cross-sectional area, HL humerus length, ULNA ulna length, RAD radial length, FL Length of femur, length of tibia, length of fibula of FIB, multiple calculation of APTDxTTD, length of clavicle of clavicle, dysplastic hip (measured hip angle), etc. The gestational age, fetal weight and expected date of birth can be calculated.
--Urology measurement and analysis:
Prostate volume, bladder volume, residual urine volume, volume of prostate transitional area, hip angle measurement and assessment (neonatal hip dislocation diagnosis), cross-sectional measurement (V-Slice method).
--Small Organs and Peripheral Blood Vessel Measurement and Analysis:
The main measurement and analysis of vascular cross-sectional area, heart rate, per volume, flow per unit time, ejection time, stenosis rate, average velocity of blood flow, RI resistance index, PI pulsatile index.
--Measurement report:
Obstetric measurement report, gynecological measurement report, cardiac measurement report, urinalysis and other measurement reports. Automatically store measurement results and generate reports
--symbol:
≥95 kinds of symbol position markers with probe position.
Through the intuitive body mark detail interface quickly select the body mar.
Text markup, presettable text content.
Arrow mark, support multiple arrow marks and adjustable direction.
4D color doppler ultrasound diagnostic system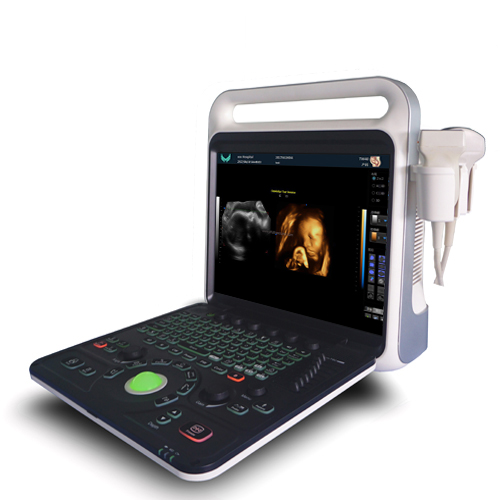 General Specifications:
-Size and weight: 470mm(L)* 335mm(W)* 560mm(H)/ 11 KG
-Adapter power source out: 19V,10A DC IN, Support battery power
-Optional battery:10Ah,14.4V.
-Displayer: 15 inch high brightness and high contrast LCD
-Image storage: Image storage, video storage, cine loop, disk storage capacity≥120G;
-Output interface:SR323,USB,DICOM interface;
-Interface: 4 USB ports
-Running hours: ≥8h;

-Adapter Input power voltage: AC 110-220V;
-Range of application: Systemic applications include abdominal, obstetric, gynecological, cardiac, vascular, urinary, small organ, breast, pediatric and neonatal imaging, fetal heart imaging, puncture, etc.