Who needs a LED Color Changing Shower Head? Everyone!
You can have a bath in a colorful atmosphere under a rainbow type LED shower head.
When you turn off the light in your bathroom to have a bath, you will find the light pattern of the LED shower head is more beautiful.
One color fade and another color will soon appear. Never will be black until you turn off the water. 5 pcs LED lamps will make sure there are more then 3 colors at least in the same time, the most is more than 7 colors (by eyes).
----Do You Want One!!!
Feature:
1.Hydroelectric power generation_With water currents available, the led light shower head lights up;

2.Security_no need to use the battery, safe to use;

3.Detachable_Can be detached into parts, easy for you to clean them after a long-time use;

4.Easy to install_ it comes with an international standard interface, compatible with most hoses.
As the built-in device generating electricity without the battery and any other power connets to water, LED will emit the light.
The light can change one color every 3 to 5 seconds so that the rainbow colors are showing gradually.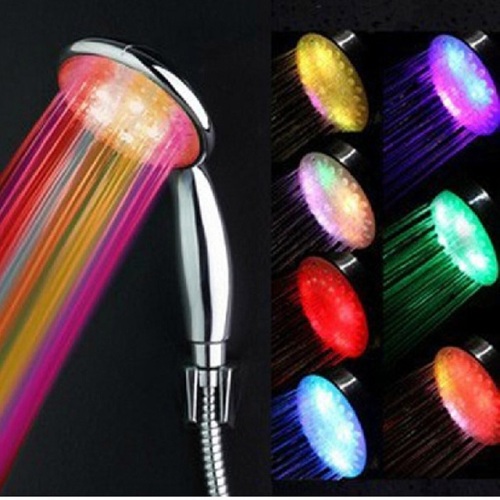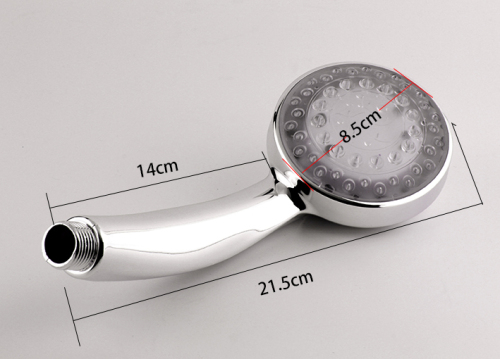 Product Parameters:
| | |
| --- | --- |
| Type: | Bathroom Faucet Accessories |
| Model: | RC-9820B |
| Material: | ABS+PC |
| Style: | Contemporary |
| Box size: | 120*80*280mm |
| Weight: | 0.294KG |
| Color: | Sliver |
| Energy: | Water pressure |
| Feature: | No battery , no electric current. |