IS200ESELH1AAA | GE | Turbine Control
Moore Automation
Sales Manager:Jessica
Email:sales*mvme.cn (please change * to @)
Skype:jessica01235483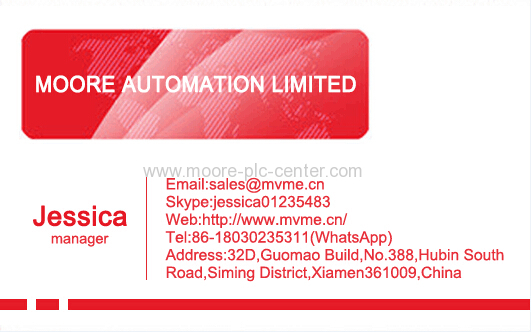 The IC200ALG327 is a 12-Channel, 13-Bit Voltage, Analog Output module from the GE Fanuc Versamax Series. The IC200ALG327 is equipped with 12 analog voltage outputs. Output voltage range can be -10VDC to +10VDC (bipolar) while the module's output range can be 0V to +10VDC (unipolar).
The CPU or Network Interface Unit is responsible for intelligent processing, and an external power supply is required for the outputs. The IC200ALG327 module is equipped with LED indicators for status observations. When the green OK LED is on, this is indication to the user that backplane power is currently going to the IC200ALG327 module. The IC200ALG327 output range is default and to alter the output range, a jumper is used. The module also is set up with a jumper for the outputs to retain their last states if backplane power or communications is interrupted.
The IC200ALG327 module outputs will stay in the previous state or until module receives different output data from the backplane or until field power is detached. Jumpers located on the carrier can be used to choose the output range and output default mode. If no jumper is connected on pins B1 and B2, the outputs are organized for their default range. If jumpers are installed, which is necessary only if field or backplane power has been removed, the output range will change.
IC697CPU772
IC697CPU781
IC697CPU782
IC697CPX772
IC697CPX935
IC697CPX935-FD
IC697MDL240
IC697MDL250
IC697MDL350
IC697MDL653
IC697MDL740
IC697MEM715
IC697MEM717
IC698CPE010
IC698CPE020
IS200BICLH1AED
IS200DSPXH1D
IS200EACFG2A
IS200ECTBG2A
IS200EDEXG1A
IS200EGPAG1B
IS200EISBH1A
IS200EPCTG1A
| | |
| --- | --- |
| ICS TRIPLEX | T8448 |
| ICS TRIPLEX | T8432 |
| ICS TRIPLEX | T8472 |
| ICS TRIPLEX | T8100 |
| ICS TRIPLEX | T8110B |
| ICS TRIPLEX | T812X |
| ICS TRIPLEX | T813X |
| ICS TRIPLEX | T8123 |
| ICS TRIPLEX | T8151B |
| ICS TRIPLEX | T8153 |
| ICS TRIPLEX | T8300 |
| ICS TRIPLEX | T8311 |
| ICS TRIPLEX | T8312 |
| ICS TRIPLEX | T8270 |
| ICS TRIPLEX | T8830 |
| ICS TRIPLEX | T8800 |
| ICS TRIPLEX | T8850 |
| ICS TRIPLEX | T8200 |
| ICS TRIPLEX | T8240 |
Shipping Term : TNT,DHL,FEDEX,ETC
Payment Term : T/T
Warranty: 12 month
Moore supply: New+original+factory sealed+high quality