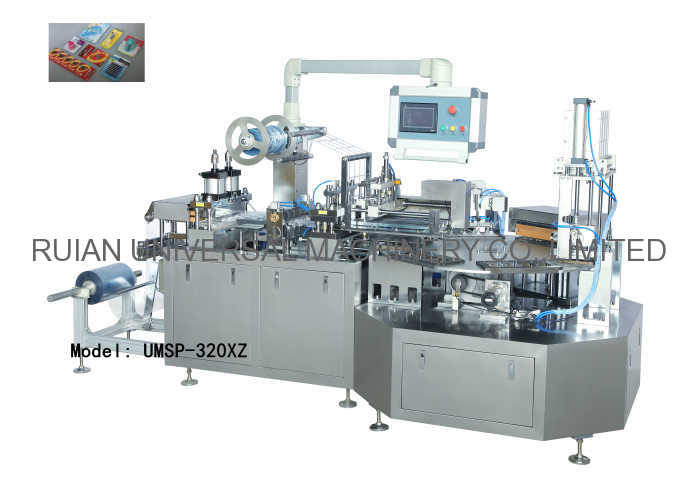 | | |
| --- | --- |
| Model: | UMSP-320XZ |
| Cutting Frequency | 10-25 times/min |
| Adjustable Travel Range | 35-160mm |
| Max. Forming Area | 340*160mm |
| Max. Forming Depth | 38mm (Special Machine 50mm) |
| Forming and Heating Power(Upper and Down) | 1.8KW (x 2) |
| Sealing and Heating Power | 3.5KW |
| Total Power | 380V 50Hz (480V 50Hz) 10KW |
| Main Motor Power | 1.5KW |
| Air Pump Volume Flow | ≥0.6m³/min |
| Packing Material: Roll | ≤400(Diameter)*350(Width)*0.2-0.5mm(Thickness) |
| Packing Material: Paperboard | ≤350*200*0.5mm(L*W*H) |
| Overall Dimensions | 3650*2500*1850mm(L*W*H) |
| Weight | 1800Kg |
It's especially suitable for companies with low production capacity that has various products and acquires
changing molds frequently.
Description
This machine is applied to the various kinds of packaging for products-stationery, industrial paperboard,
plastic blister package widget, medical equipment, toys, battery, electronic product, automobile, motorcycle
accessories, commodity, cosmetics, rubber products, tableware and cooker.
For example: Medical injection, injection syringe, toy car,, electronic torch, sparking plug, toothbrush, lipstick,
mask, chopstick, shaver, scissor, hook, cleaning ball, bottle opener, correction fluid, ball-point pen, pencil, pencil
sharpener, etc.
Main Performance Characteristics:
1. The assembly line consists of blister molding machine and rotating heat-sealing machine,
2. The positive/negative pressure molding, precise forming, make the product more beautiful.
3. Semi-automatic helps save labor work and material.
4. It uses servo motor drive steplessly and is easy to adjust.
5. The separate-type design makes it convenient to transport and is free out of the elevator.
6. Full humanity with low noise.
7. It's very easy to change the molds, thus improving the production efficiency.
Smaple Show