Robot application system can do a lot of works for the human. Hennopack makes many robot machines to help factories finish packing works. Based on the good performance of the robot arm, we use them to palletize boxes, pick and place box, bottle, bag, can,bucket etc. The main job of hennopack is to work out solutions of robot packing systems.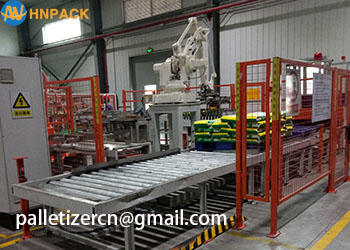 Product description
>Standard Robot brand: KAWASAKI.You can choose ABB or Chinese brand.

>Suitable for box palletizing.

>2 control system.1.Robot driving control system, 2. Packing line control system.

>Auto bag detect and control.

>HIMI panel & PLC, easy to learn and operate.

>Change palletize format by computer. You can save your own working format.

>Standard safety protection. Photo sensor safety door.

>Gripper special design for different picking product.

>Auto/manual pallet feeding.

>auto/manual full load pallet output.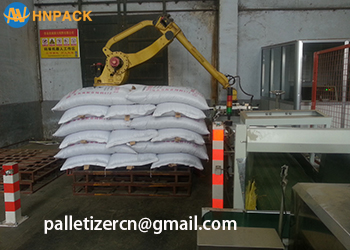 Product Parameters
SYSTEM STRUCTURE


No.


Name


Quantity


Specification

1

Convey


1 set


Length: 2m; Material: carbon steel


2

Robot Arm

1 set


ABB,FANUC ROBOT


3

Gripper

1 set

For carton: split way; For Pallet: grasp mode

4

Base

1 set

Height: adjusted, Material: carbon steel

5

Palletizing Unit

1set

Length:1.5m; Width:1.25m; Material: carbon steel

6

Stacking Unit

1set

Length:1.5m; Width:1.25m; Material: carbon steel

7

Safe Fence

1 set

Material: carbon steel

8

Control System

1 set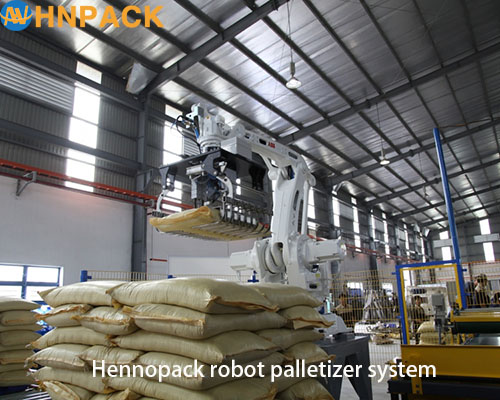 SPECIFICATIONS FOR ROBOT PALLETISER SYSTEM

Model

MTR-2

Application

Cartons and Bags

Palletizing Speed

400-600 boxes/hour

Stack Height

1800mm

Carton and bag Dimension

L200~550mm*W200~460mm*H150~450mm

Carton and bag Load(Max)

25KG

Pallet Dimension

L800~1200mm*W800~1200mmm

Conveyor hight

400~450mm

Conveyor width

650mm

Power

380V 50Hz