Mineral Oils, Synthetic Oils, Greases
Standard type for a broad range of applications in every sector of industry.
Rubber covered O.D. Assures sealing in the housing bore, even where there
is considerable surface roughness, thermal expansion or split housing.
Particularly suitable for sealing low viscosity and gaseous media.
Material:
NBR (Natural Rubber), Plain Steel insert, Spring Steel spring.
Max Temperature: -40°C/-40°F – 100°C/ 212°F
Max Surface Speed: 14 m/s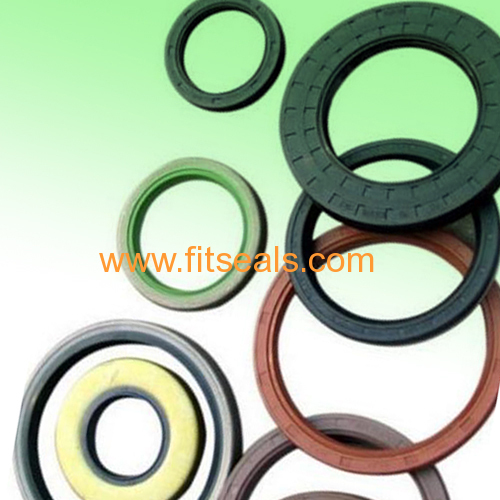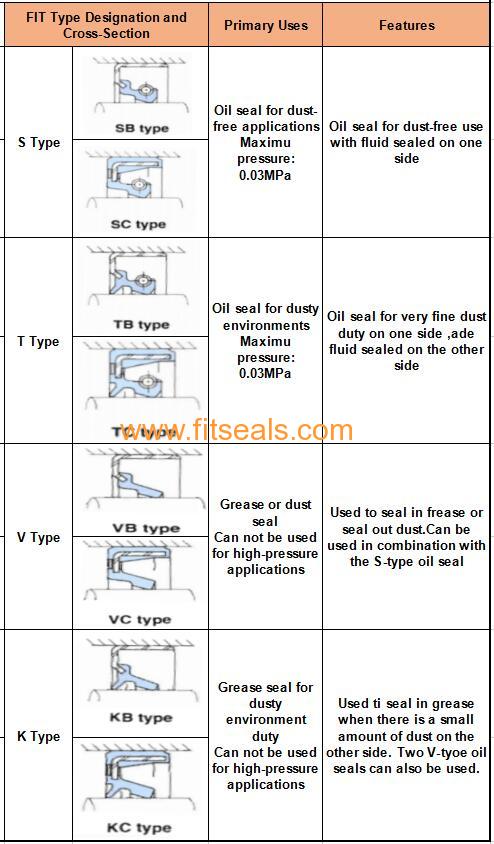 Oil Seals
Oil seals are available in numerous lip materials. Popular materials include felt,
leather, urethane, nitrile, polyacrylate, ethylene-acrylic or polyacrylic, silicone,
fluoro-elastomer, tetrafluoro-ethylene propylene and PTFE. Use of one material
over another is application specific, as materials will have different temperature
and speed ranges. Oil seals also come in numerous constructions. Of particular
note is the number of lips, with single and double lip being the most popular.
Many popular styles of oil seals will utilize a spring on the lip to increase sealing
capabilities. Some oil seals have a coated metal casing with a "rubber" lip while
other seals will be a uniform with the lip material. Available in a wide array of sizes,
both inch and metric, most oil seals are interchangeable between manufacturers.
Critical dimensions on an oil seal include the inside diameter or bore (the OD of the
shaft the seal rides on), the outside diameter (often called the housing bore) and the
width. The ID and the OD are the most critical dimensions, as it is the oil seal lip that
actually does the sealing. In most applications, a replacement seal that is thinner in
width than the original will work, as it will still fit into the grove provided. Depending
on this groove dimension, on occasion, a wider replacement seal will also work.
Oil seals should not be confused with U-Cups or Packings that are designed to handle
higher pressure. A standard oil seal is designed to handle low or no pressure.