Medium motor stator coil Injection and inserting machine for air conditioner and Submersible pump motor
In the motor stator manufacturing ,the coil insertion technology is the most economical and highest quality process for the injection of wire coil sets into the motor stator slots. Usually, it happens after the stator coil is wound. NIDE offers a range of stator coil insertion machines from manual machines to complete automation.The stator coil injector machine manufactured by NIDE is high automation, saves labor and improves production efficiency. This motor stator coil insertion is suitable for medium-sized motor stators manufacturing. The following is a detailed introduction of the coil inserting machine
I. Motor stator coil injectior main function and characteristic
The motor stator coil injection machine is used for winding and wedge automatically inserting. With horizontal frame design, controlled by industrial programmable PLC.
The coil wire insertion adopts AC servo motor driving system, AC frequency conversion speed regulation system, pneumatic system.
It can achieve wedge length setting, feeding, cutting, forming and inserting into stator together with coil automatically. Coil inserting speed can be set at different section. Wedge feeding mode can be set according to different motor.
Euipped with human-machine control interface, it has the function of status display, malfunction alarm, various parameters setting etc.
The coil injector has the characteristic of widely application, high automation, easy operation and convenient tooling change.
II. Motor stator coil injectior application
The motor stator coil inserting machine is suitable for medium motor stator , such as water pump motor, air conditioner motor , washing machine motor , submersible motor , vacuum cleaner motor, Chainsaw motor, Blender motor, Servo motor, New Energy motor, alternator stator, Cooling fan motor, kitchen hood motor, etc.
III. Motor stator coil injectior technical parameter
| | |
| --- | --- |
| Product name: | Middle type electirc motor stator coil injection equipment machine |
| Stator Stack length : | 15~170mm |
| Max. stator ID : | Φ70 mm |
| Max. stator OD : | ≤Φ200 mm |
| Max. slot fill : | 80% |
| Slots number : | 8~48 slots |
| Type : | semi automatic |
| Voltage : | three phase 380V, 50Hz |
| Air pressure : | 0.5~0.8Mpa |
| Power : | 4.5KW |
| Dimension : | 3200*1050*1900mm |
| Weight : | around 1300kg |

IV. Motor stator coil injectior maintenance
During machine maintenance, please stop machine running, and cut down power source. Remain the lubricating system clean. Do not open the safety door or oil cap, in case other dusty comes inside.
1. Check the mechanical, electric, hydraulic, pneumatic, lubricating parts before machine working. Check if there is any screw loosened, any abnormal of moving parts and electric parts.
2. After working, reset machine and clear the machine
3. Check if there is water on the filter regularly, if yes, clear up it.
4. Check if there is mechanical oil in the atomized lubricator. If no enough mechanical oil, please add.
5. Check pushing mechanism lubricating situation, if no enough lubrication oil, add it.
6. The magnetic valve and pipe connector should be checked every 3 months once.
7. Check filter and air cleaner every 2 months once
8. Check the pressure gauge every year once.
9. Clear the electric cabinet every 3 months once.
10. Add mechanical oil to the pushing rod every day, and grease to the transmission rod every month.
V. Motor stator coil injectior picture show
The motor stator coil injection process -1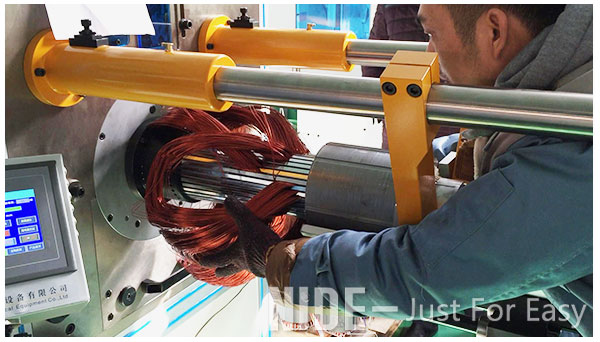 The motor stator coil injection process -2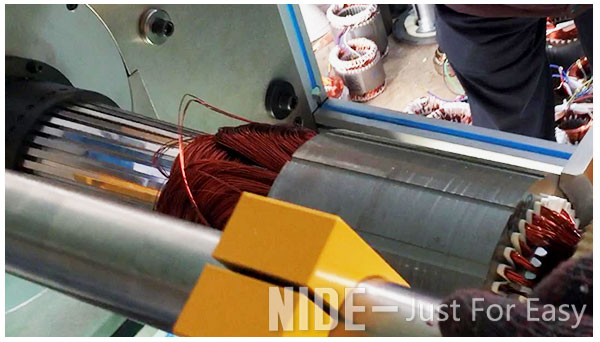 The motor stator coil injection process -3