As a professional motor stator winding machine manufacturer, we have been committed to the field of motor manufacturing, and provide a variety of equipment and technical solutions for motor manufacturing, including automation and artificial machinery. The stator winding machine is mature in technology, advanced in technology, reliable in quality, and convenient to use and maintain.The following is an introduction to this stator winding machine.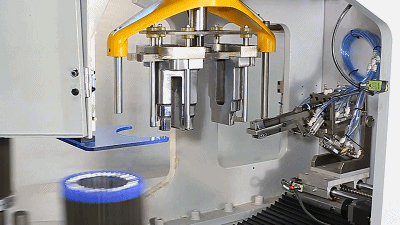 I. Description:
The Automatic Stator Coil Winding Machine adopts Vertical Type design, is a kind of single-head and double-station automatic winding machine; automatic put the coil into transfer former orderly; especially suitable for high slot filling rate, small notch stator; winding mode such as automatic skip, automatic cutting and automatic indexing can be finished at a time successively; parameter could be set in human-machine interface, winding tension is adjustable; It has the functions of continuous winding and non-continuous winding; and meets the 2 poles, 4 poles and 6 poles motor stator coils winding.
II. Technical data:
| | |
| --- | --- |
| Product name | Automatic Alternator stator winding machine |
| Winding stations | 1 head and 2 stations |
| Wire diameter range | Φ0.2~Φ1.2 mm |
| Winding speed | ≤2000r/min |
| Stator O.D. | Max 150mm |
| Stator I.D. | 40-110mm |
| Flier track | Φ400mm |
| Transfer number | 2~7section |
| Power | 380v/50/60Hz |
| Weight | ≈1100Kg |
| Air pressure | 0.5mpa |
| Dimension | (L)1800×(W)1100×(H)2200 mm |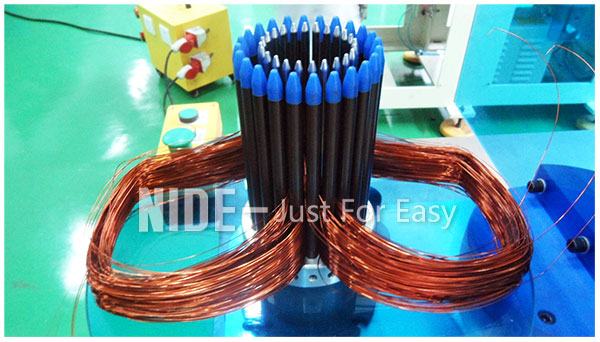 III . Application:
The automatic stator winding machine is used for 2 poles, 4 poles and 6poles motor stator coils winding,and is suitable for Alternator, Generator, Induction motor, Vacuum cleaner motor, Washing machine motor, Juicer motor, Mixer motor, Chainsaw motor, Lawnmowe motor,Drill motor, Hand-dryer motor, Blender motor, Sewing machine motor, Three wheel motor, Rickshaw, DC motor, Water pump motor, Air conditioner motors, Compressor motors, Fan motors.
IV. Operation step:
1. Thread wire into the machine
2. Connect the power and air source
3. Turn on the machine, and press reset button to reset the machine
4. Put the winding form on the indexing plate
5. Press "cut wire" button on the machine to cut wire.
6. Press start button by two hands
V. Picture show:
1. The stator winding machine appearance.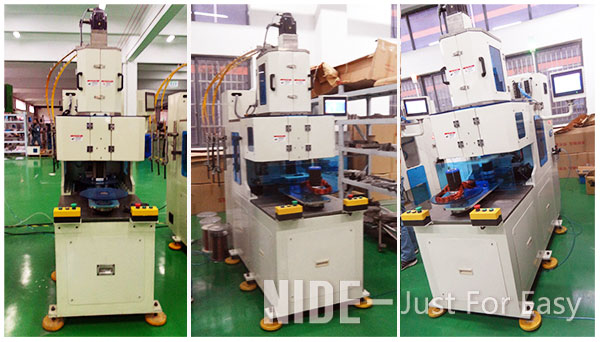 2. The stator winding machine's mechanical arm and coil winding mold