Structural features:

1, single ball flexible rubber joint can greatly reduce the vibration and noise of the pipeline system, can fundamentally solve all kinds of pipeline interface displacement, axial expansion and non-concentricity and other problems
2, according to the different materials, single ball flexible rubber joints can be made of resistance, alkali resistance, corrosion resistance, oil resistance, heat resistance and other varieties, to adapt to a variety of media and environment.
3, the material is polar rubber, good sealing, light weight, easy installation and maintenance, long service life, but avoid contact with sharp metal instruments, so as not to puncture the ball.
4, if the use of overhead can be equipped with elastic support, the installation of bolts to use diagonal method tightening.
5. If the pipeline pressure is too high, limit bolts shall be used to connect the flanges at both ends.
6. Flange connection standard adopts gb4216.3-4216.5 standard, which can be explained separately. Working pressure grade of this product is 0.6Mpa,1 Mpa, 1.6 Mpa and 2.5 Mpa.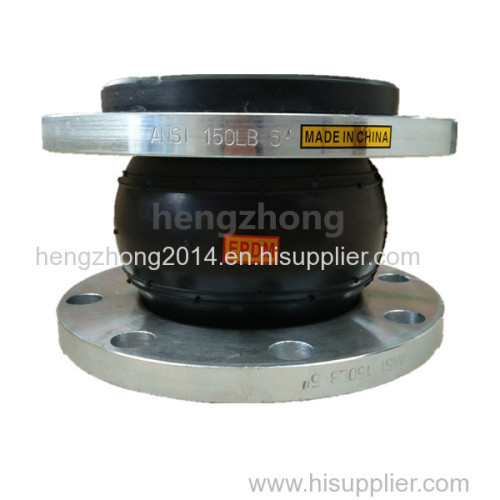 Performance characteristics:
1, small size, light weight, good flexibility, easy installation and maintenance.
2, the installation can produce transverse, axial, angular displacement, not by the pipe impaction, flange uneven restrictions.
3, the structure can reduce the transmission noise, strong vibration absorption ability.
Installation method:
1. Rubber joints shall not be installed beyond the limit of displacement during installation.
2. Install the bolts symmetrically and tighten them gradually under pressure to prevent local leakage.
3.1.6 for working pressure above MPa, the mounting bolts shall have elastic pad to prevent the bolts from loosening during work.
4. During vertical installation, both ends of the joint pipe should be supported by vertical force, and the anti-pull-out device can be adopted to prevent the work from being pulled under pressure.
5. The rubber joint should be installed away from heat source and ozone area. It is strictly prohibited to expose to strong radiation light and use media that do not meet the requirements of this product.
6. Sharp instruments are strictly prohibited from cutting the surface and sealing surface of rubber joints during transportation and loading and unloading.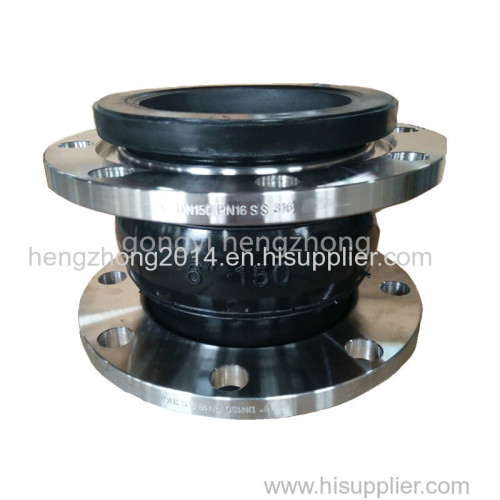 Nominal diameter
DN
Length(mm)
NO.of bolt n
Diameter of bolt
hole center
circle D0(mm)
Diameter of bolt
hole center
circle D1(mm)
Axial displacement(mm)
Lateral of
displacement(mm)
Angle of
deflection(a1+a2)
(mm)
(in)
Stretch
Comp ression
32
1¼
95
4
17.5
100
6
9
9
15°
40
1½
95
4
17.5
110
6
10
9
15°
50
2
105
4
17.5
125
7
10
10
15°
65
2½
115
4
17.5
145
7
13
11
15°
80
3
135
8
17.5
160
8
15
12
15°
100
4
150
8
17.5
180
10
19
13
15°
125
5
165
8
17.5
210
12
19
14
15°
150
6
180
8
22
240
12
20
22
15°
200
8
200
8
22
295
16
25
22
15°
250
10
230
12
22
350
16
25
22
15°
300
12
245
12
22
400
16
25
22
15°
350
14
255
16
26
460
16
25
22
15°
400
16
255
16
26
515
16
25
22
15°
450
18
255
20
26
565
16
25
22
15°
500
20
255
20
30
620
16
25
22
15°
600
24
260
20
26
725
16
25
22
15°
700
28
260
24
30
810
16
25
22
10°
800
32
260
24
30
920
16
25
22
10°
900
36
260
24
30
1020
16
25
22
10°
1000
40
260
28
30
1120
16
25
22
10°