Brief Introduction
Tunnel muck car is use for tunnelling slurry and muck transport tunnel towing machine. Main parts are bucket, chasis, bogie, brake system. On both ends install traction pin or wilson coupling connection device, for connecting with battery powered locomotive. Capacity 8m3,15m3,18m3,and 22m3.
Muck car for the ac frequency conversion of battery locomotive supporting equipment, muck car is suitable for the underground railway highway tunnel construction and other industries, as auxiliary equipment in the construction process of shield machine,in the shield construction transporte the muck and slurry, has a small turning radius good safety reliability two discharge modes, etc.
Technical illustrate:
(1) Bogie
Bogie is the muck car walk system, each muck car has two bogies. The bogie consists by two side frame, one beam, two pairs wheel, four group spring, two brake cylinder. When muck car running, it through center plate rotate, spring damping. The brake is exhaust brake,when the locomotive pipe pressure is o, the brake shoe through the brake cylinder's brake spring, via leverage has brake,when the locomotive pipe pressre is 0.4MPa, the brake shoe remission.
(2) Chasis
The muck car chasis through connection by foundation bolt and bogie center plate, easy to disassemble.
(3) Bucket
The bucket and the chasis through one pit box location, hence could hoist directly, easy to discharge.
Role:
The muck cars used for tunnelling, the related unloading systems, transport muck and slurry during shield construction, as ac locomotive backup equipment.
Advantage:
* Rotate chasis
* Exhaust brake
* small turning radius, running stable, clean discharging ratio.
* Good security, two unloading methods
Pictures: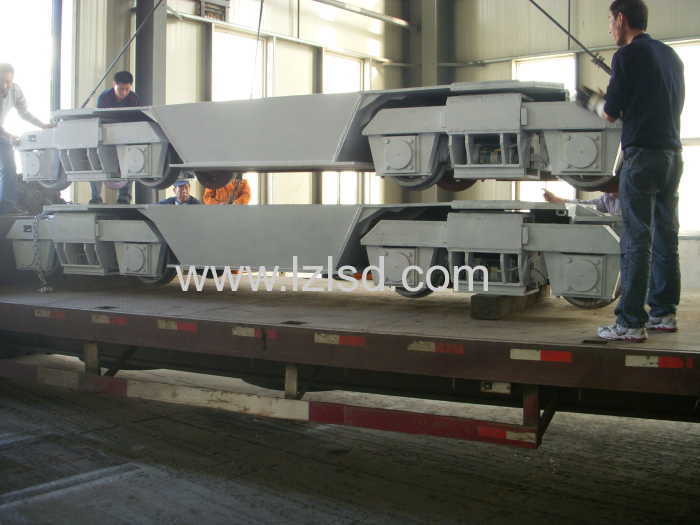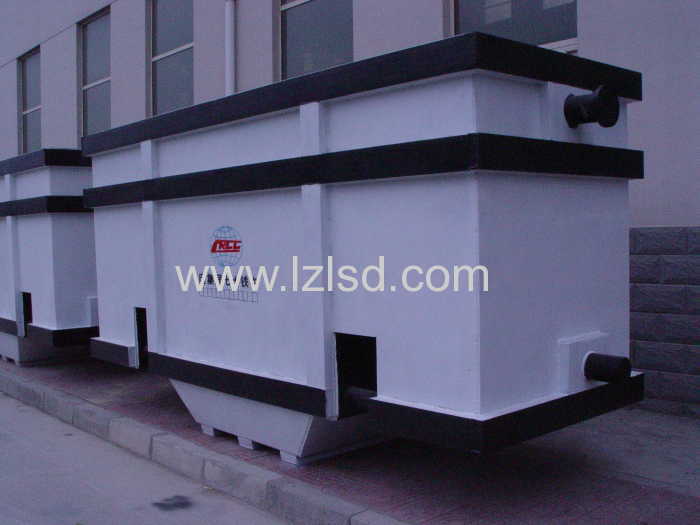 About Lishengda
Lanzhou Lishengda Railway New Technology Limited Liability Company(LZLSD)was founded in 1999. It is a high-tech enterprise specialized in research, development, production, sales, and export of railway equipments and engineering vehicles. With the significant support from Measuring & Controlling Technology Institute of Lanzhou Jiaotong University, taking Gansu Engineering & Technology Research Center for Rail Transportation Equipment as a researching and developing platform, LZLSD has had abundant human resource, professional equipments and advanced technology.
The main products of LZLSD are:
Rail transportation equipment
Special equipment for railway / highway
Mechanical equipment and accessory for coal mine
Series of AC variable frequency battery-powered locomotive for engineering and mining
Series of DC overhead line-AC drive locomotive for engineering and mining
We have undertaken and completed a number of new technology research projects in Chinese railway and have honored with the provincial Science and Technology Progress Awards since the company was established. LZLSD has been authorized with ISO9001 certification, and two series of electric locomotive are with the National Safety Certification of Approval for Coal Mining Products (MA) and the National Safety Certification of Approval for Mining Products (KA).
In recent years, the company has been growing. There is a strong technical team with innovation and dedication. The series of AC variable frequency locomotive for engineering and mining developed by the company have reached the advanced level in the world. The products such as DC (250V/550V) overhead line-AC drive locomotive (10t, 14t, 18t, 20t), AC variable frequency battery-powered locomotive (14t, 18t, 20t, 25t, 40t, 45t), special AC variable frequency battery-powered locomotive for mining (60t, 90t) and ancillary equipments for shield tunneling, have been put into application. With the complete specifications and high reliability of products, our sales network has covered China and abroad.
Our products have played important role in the construction and production of Beijing Subway, Shanghai Metro, Tianjin Metro, Guangzhou Metro, Shenzhen Metro, Water Diversion Project and Shanxi Coking Coal Group etc., as well as of India and Thailand. With the good effects, they have been highly praised by users. The company has enjoyed the reputation among the trade.