MMO/Platinum Titanium Electrodes Used in Onshore and Offshore Impressed Current Cathodic Protection System
Xi'an Taijin devote itself to design and produce mmo/platinum elelectrodes used in onshore and offshore impressed current cathodic protection system.
Every mounting site of mmo/Pt titanium electrodes has its own unique challenges, whether it is soil,fresh water, carbonaceous backfill, brackish water, sea water, muddy water etc., our tailor-made coating of titanium electrodes solutions based on many years proven track application practices and multidisciplinary specialized teams will meet your specific requirements. Our long term partners in cathodic protections is Corrpro/Ageion, Catheco, Savcor, CJSC-Chemservice CP, Qingdao Sunrui etc.
1. Typically concerns in the impressed current cathodic protection, Xi'an Taijin devote itself to achieve them all the time
1). Guarantee the reliability and stability of Impressed Current Cathodic Protection and requested working lifecycle performance
2). The professional technological support and solutions after sales during the products' erecting and application
3). Reduce all the cost at maximum
2. Xi'an Taijin overview, welcome your visit our factory to know better and further us.
1) Name: Xi'an Taijin Industrial Electrochemical Technology Co. Ltd.
2) Business model: State-governed, associated with Northwest Insititute For Nonferrous Metal Research, strong technological support and research & development teams
3)Establishment: Nov.20, 2000
4) Workshops: 4 workshops, 10 Sintering furnaces, 110 workers/3 shifts
5) Process and inspect facilities: state-of-the-art machining, sand-blasting, coating and inspecting enquipment
5) Development & Patents: 38 professors and engineers with engineering experience and expertise, 54 patents in titanium electrodes field up to 2018
6) Quality Control and Assurance: independent state-level laboratary and inspecting center, the complete and strict quality control system
7) The 3rd party certificates
(1) MMO Ribbon and MMO Mesh Ribbon-passed the quality test from Det Norske Veritas(U.S.A.) Inc
(2) Facotry Processing Capability Certificates-SGS and BV
(3) Quality Control System Certificate-GB/T19001-2016/ISO9001:2015 from QMS, IAF, CNAS.
Xi'an Taijin MMO Ribbon and MMO Mesh Ribbon passed the quality test from Det Norske Veritas(U.S.A) INC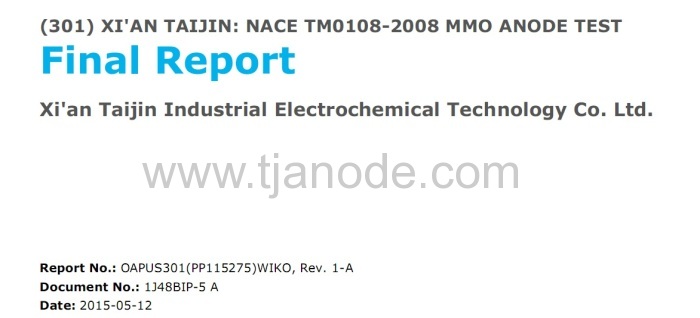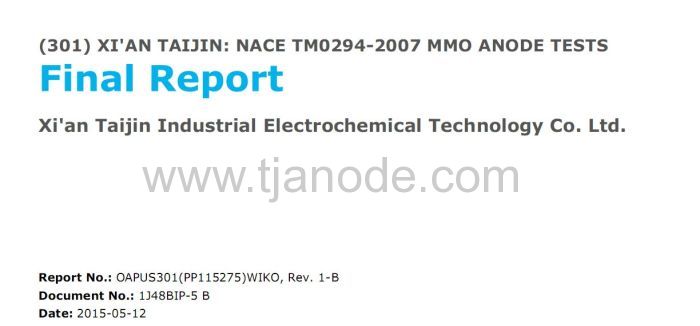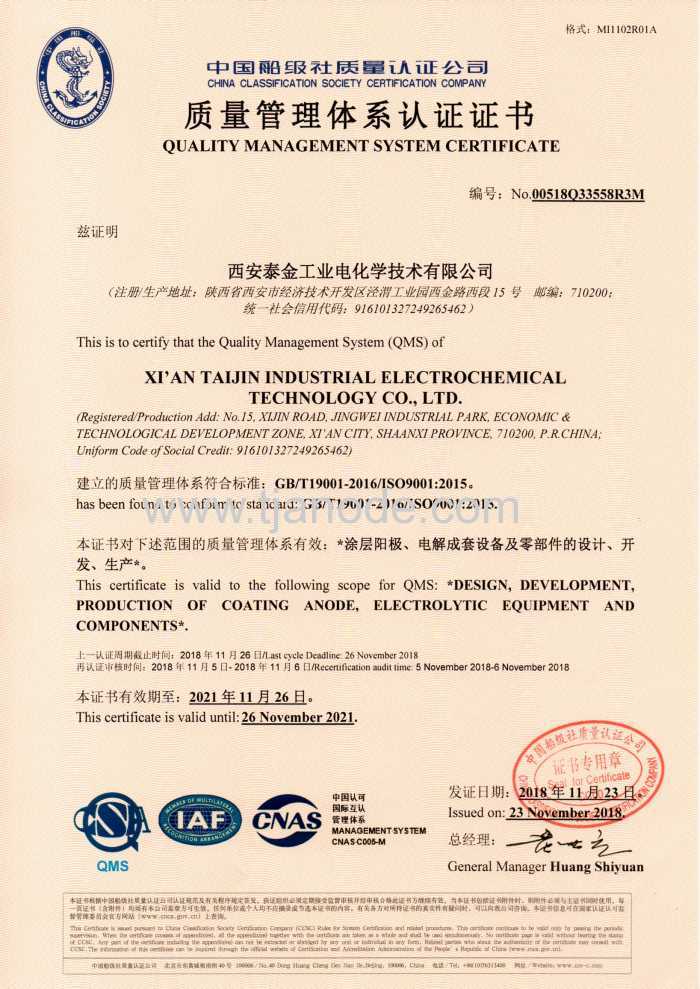 3. Products and working shop