The DC motor armature finish turning machine is use for armature commutator turning and it can turn and brush the rotor simultaneously.
(1) Introduction and features
Manual load/unload of armature into the turning and brushing stations.
Armature commutator turning and brushing the rotor at the same time
Servo motor drive controls armature rotation.
Robust, vibration-free base and tooling mounting surfaces.
Complete control of belt speed for correct cutting surface speed.
Supporting Clockwise or counterclockwise rotation of armature during cutting.
High precision
Easy access for maintenance.
Low cost
Easy to operate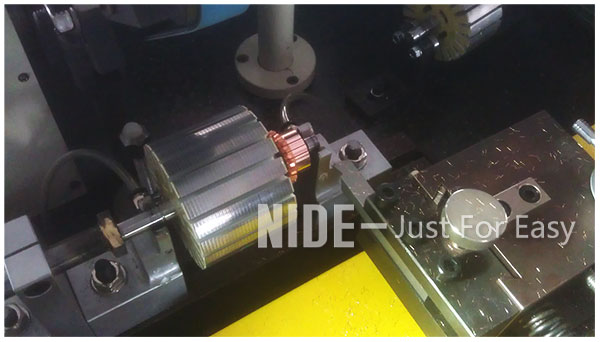 (2) Technical data:
1. Voltage

240V+/- 10%

2. Frequency

50Hz

3. Motor power

750W(AOB71222,

Three phase 240 V, connection)

4. Frequency converting power

750W(2pole,single phase 240v)

5. Control

PLC System

6. Belt press time

0.1s

7. Cutting time

programmable

8. Cutting speed

pneumatic adjustable

9. Speed frequency range

0-60Hz

10. Air pressure

0.5-0.7Mpa

11. Armature shaft diameter range

f3-f16mm (according to customers' requirement)

12. Armature diameter range

71~148mm

13. Shaft length range

290~490mm

14. Cutter linear speed

50m-1000m/Min

15. Weight each cutting

0.02-0.2mm

16. Commutator Surface roughness

0.25micron

17. Rotor Surface roughness

0.4micron

18. Concentricity

≤0.005mm

19. Max cutting length

100mm

20. Machine dimension

950mm×650mm×950mm

21. Weight

400Kgs

(3) Application
The armature finish turning machine is used for DC electric motor armature commutator surface finishing.
(4) Picture show
1. The armature commutator turning process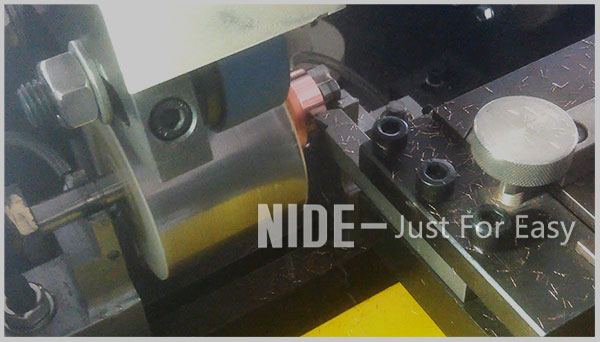 2. Turning and brushing the rotor at the same time
3. Armature show after finish turning and brushing