Automatic compressor motors stator coil winding machine for miniature induction motors
I. Application
This automatic stator coil winding machine is suitable for miniature induction motors such as air conditioner motors, washing motors, compressor motors, fan motors, generator motors, and pump motors.
II. Product structure
This stator winding machine is mainly composed of the frame part, the main shaft part, the indexing part, the manipulator part and the distribution box.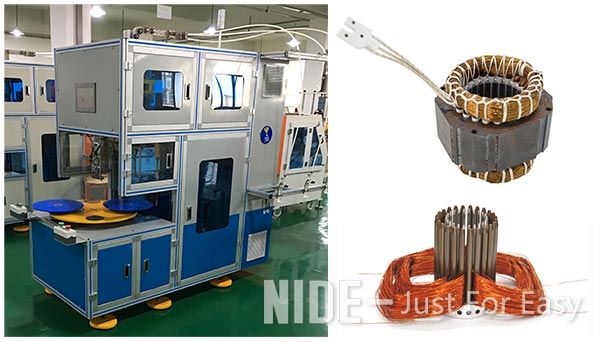 III. Main technical data
| | |
| --- | --- |
| Product name | compressor motors stator coil winding machine |
| Winding head: | 1pc |
| Wire diameter: | 0.2~1.2mm |
| max stack height : | 160mm |
| max stator O.D : | 210MM |
| Winding speed: | ≤2200RPM |
| Max flier track: | 400mm |
| Transfer number: | 1-7section |
| Power supply: | 380V/50/60HZ 4.5KW |
| Air pressure : | 0.4Mpa |
| Weight: about : | 1200kg |
| Dimension: | L1800*W1100*2200mm |
IV. Product introduction main features
1.This coil winding machine is a vertical single-head double-station automatic winding machine;
2.The coil can be arranged neatly in the hanging cup cup tool, especially suitable for the winding of the high slot full rate and small slot stator;
3.Automatic tripping, automatic trimming, and automatic indexing are completed in sequence.
4.HMI setting parameters, winding tension can be adjusted, with continuous winding, non-continuous winding and other functions,
5.PLC can set turn number, winding speed, tooling sunk height, tooling sunk speed and winding direction.
6.X and Y spindle of wire hooker and wire cutter adopts servo system. It can adjust the length of bridge wire and lead wire.
7.It can be used for 2, 4 and 6 pole motor stator coil winding.
8.This automatic stator winding machine is mature in technology, advanced in technology, reliable in quality, and easy to use and maintain.
9.Winding tooling: each machine has one set winding tooling and three vertical winding forms.
10.The whole set of tooling can be changed, and it takes about 15min.
11.The turntable is two stations structure. It adopts servo system to rotate and index transfer form.
12.Allow three wires winding simultaneously.
13.Main spindle is controlled by servo motor. The coil turn number accuracy is ±1 turn.
14.The working rotation speed can be set .
15.Machine has no distinct vibration and noise.
16.Free of enamel damage and wire snap.
17.Once the copper wire is run out, machine will automatically stop.
18.Tooling sunk adopts servo system. The max segment number of tooling sunk is 7.
V. Picture show
1.The automatic stator coil winding machine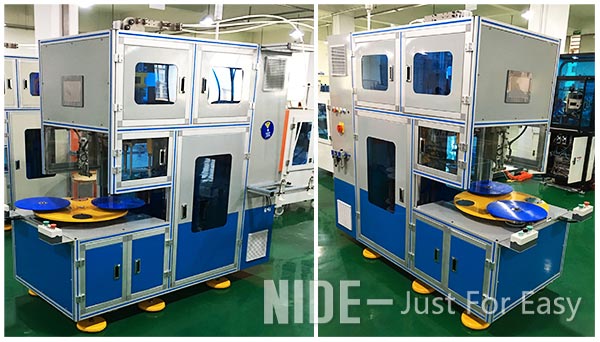 2.The automatic coil winding machine tooling
3.The stator winding machine is used for compressor motors,