TAIAN mini loader compact articulated mini loaders offer a winning combination of performance and low operating costs.
No compromise between performance, power, economy, innovation, technology and design.
It stands to reason that this model is the most popular offer- available in the market to date.
The telescopic boom combined with the compact size makes mini loader the right choice for anyone who needs boom outreach coupled with great agility in narrow spaces: from the DIY to the demanding professional.
Articulated Loaders | Turn Heads
Articulated loaders are turning heads throughout the country. Versatile and compact, these loaders maneuver freely in tight places while inflicting minimal ground damage. With a wide variety of attachments, these units easily transition from application to application, making your operation more flexible and profitable.
Superior Maneuverability
Articulated steering with angles up to 40 degrees offer excellent maneuverability. A consistent turning radius means that where the front goes, the rear follows.

Full Capacity
These articulated loaders may be compact in design, but not in strength. Rated operating capacities up to 500KGS -1500KGS bring major power to jobs in tight confines and on sensitive surfaces.
Extreme Flexibility

Universal-type attachment connect coupling system fits most wheel loader attachments, expanding the work tool selection that can be utilized.

General Introduction:
DY series telescopic machine loader tractors have three models, DY620, DY840 and DY1150, width from 980mm to 1500mm offered best solution to narrow space works, and front articulated design makes the turning radius much smaller which also helps a lot. Telescopic boom offers wider usage.
Power:
All models have separately four hydraulic wheel motor, they are real four wheel drive hydrostatic dive.
All machines adopts world famous Yanmar which guarantees the quality and meanwhile more powerful.
All the actions of the machine can be achieved by only joystick/levels, buttons and switches, reasonable arrangements of all the controls makes the operating biggest comfortable.
Thanks to the quick coupling system, you can change into different attachments in just one minute, which is very simple and convenient.
We always take customers' any possible needs into consideration, there's cigar-lights on each machine.
We equipped window hook for the closed cabin so that the window can be opened a bit and offer better ventilation
Advantage:
It is a machine designed for the maintenance of gardens and lawn care. Purposely developed for people who want to be completely independent and efficient.
Thanks to the employed technology, DY840 can satisfy all requirements connected with cleanings, lawns mowing and handling. It is easy to use, comfortable and safe; its turning radius is equal to zero thus guaranteeing easy handling even in narrow spaces. The 4WD hydrostatic transmission with pedal control will smoothly drive you on all types of terrain assuring availability of high power whenever needed.
With its innovative design and great comfort and stability, DY840 is the ideal machine for building firms, municipalities, touristic facilities and rental companies.
Main components
1).EURO III Kubota 33HP diesel engine
2).Steel canopy
3).Counterweight
4).Standard Bucket
5).Engine Off By Key
6).Boom floating
7).Self-leveling
8).Removable rear cover
Specifications :
| | |
| --- | --- |
| Model | DY840 |
| Dimension (LxWxH) | 2600 X1240 X 2100mm |
| Max. reach(boom extended) | 3000mm |
| Max. reach(boom retracted) | 2480mm |
| Bucket capacity | 450L |
| Rated loading capacity | 850kg |
| Tipping load | 1300kg |
| Min. turning radius | 2065mm |
| Turning angle | 450 |
| Speed | 0-12 km/h |
| Weight | 1600 kg |
| Standard tire | 26X12-12 |
| Tire pressure | 2.8 bar |
| Oil tank capacity | 40L |
| Pressure | 190bar |
| Working oil flow | 33.5L/minx2 |
| Tracking oil flow | 78L/min |
| Oil model(mineral oil) | L-HL46 |
| Engine brand | Yanmar |
| Engine type | 4 cylinder, water cooling |
| Rated power/speed | 24.5 Kw/2800 r/min |
| Fuel tank capacity | 23L |
| Battery | 60Ah, 12V |
Pictures;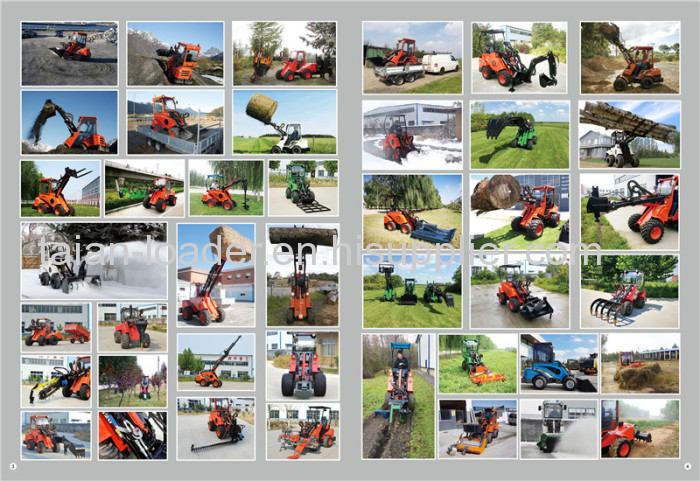 Related products: