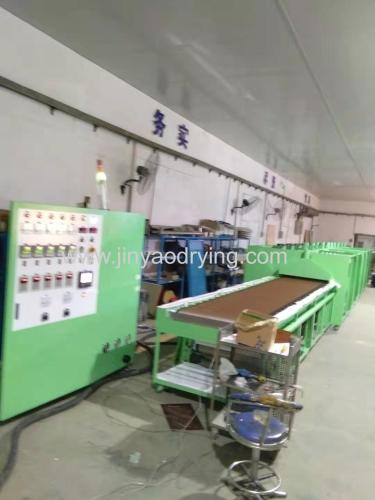 Type: BCO-5
Name:hot air drying machien
Power: AC380V 3 arc arc 50HZ 90KW
The material heating cover is made of SUS#304 stainless steel plate and the outer SS41 steel plate powder coating and baking paint
Inch feeding section 4500mm heating section 8860mm discharging section 1000mm total length 14860mm
Net surface off-ground (H) 900mm ±50mm size W1950 x L14860 x H1500mm(approx.)
The electric heater adopts the ceramic heating element with black heat effect combined with the internal dimension of W980x H80mm in the heating section of Swedish medium temperature heating wire
2 sets of adjustable damper are attached to the inlet and outlet of the heating exhaust hood
Fixed mode a fixed set (easy maintenance) with two sets of fans with adjustable slope in the discharging cooling section
Hot air circulation system
Maddatong motor 1/2HP 3 arc 50HZ 380V
Multi-wing wind wheel 10 "(indirect drive)10 sets of speed adjustment
Square frequency converter 1HP 5 groups
Stepless speed regulation to adjust the circulating air volume
The inner layer of the heating section of the inner layer of the heat preservation system adopts advanced imported ceramic silicon
Aluminum wool insulation break heat (thickness 80mm) middle layer middle layer adopts air insulation
(the thickness of 50 mm)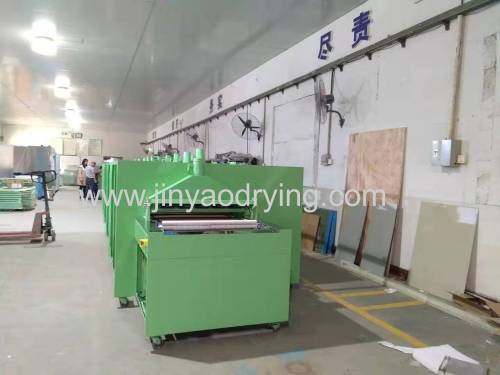 The driving motor adopts miniature cong transmission net glass fiber net (teflon)W800XL29960mm
Upper transmission mode motor reducer sprocket transmission network speed regulation mode delta frequency converter governor (stepless speed regulation)
Transmission speed MAX 500 ~ 1500min speedometer VR speed regulation, LED display
Connection roller discharge connection roller 1 set of driving motor Panasonic MUS 825GY 1 set
The transmission motor adopts city-state decelerating motor transmission net glass fiber net W800*L29960mm
Lower return transmission mode motor reducer sprocket transmission network speed regulation mode delta frequency conversion governor (stepless speed regulation)
Transmission speed MAX 500 ~ 1500min, usually 1500min speedometer VR speed regulation, LED digital display
Connection roller discharge connection roller 1 set of driving motor Panasonic MUS 825GY 1 set
4 "adjustable damper with filter screen is adopted for cooling system inlet air mode.(every)
Hot air circulation supply, 4 "adjustable damper forced air exhaust (can be externally connected with the exhaust pipe).(every)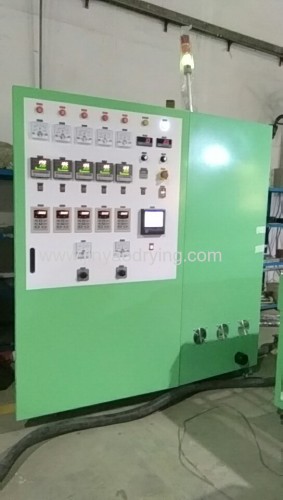 Temperature range room temperature plus 10℃ maximum 240℃
Temperature controller adopts daily YS900 temperature automatic controller, PID automatic calculation, thin film key, LED digital display, overtemperature heating, warning light and SCR action.
Control system this machine adopts independent control box, when the machine is delivered, personnel must cooperate with the wiring, the control line reserved within 10 meters
Automatic startup system and manual startup and automatic cooling shutdown functions (with automatic startup timer OMRON 99HR group 1)
1. Shutdown countdown, automatic power off, power off manual reset device and hand shake wheel discharging device.
2. The machine is equipped with a six-point automatic temperature recorder
Safety () 3P 250A leakage circuit breaker () transmission motor overload protection switch
Mounting () control system fuse 3A high speed fuse (for electric heating)
Main () ammeter () overtemperature indicator () power indicator () current switcher
Accessories () electric switch () transfer switch () governor () tachometer
Other accessories: () high and low adjusting screw () rubber power cord () cast iron wheel
Spare parts automatic temperature controller 1, relay 5, electric heating fuse 1 box, control system fuse 1 box,
CA induction tube 1, electric heater 1 set, speed governor 1, indirect drive pellin 2
Remarks 1. The specifications of this machine are designed and manufactured according to the information provided by your company.
2. Please send your staff to our factory for acceptance before packing the machine.
3. After the site location of your company, the forced exhaust system and power cord configuration are OK, and then inform our factory to complete the test run.
1. For domestic use, we guarantee one year of free after-sales service (except natural and man-made factors).
2. For those who need to provide overseas service after the machine is delivered to the machine for acceptance in China, the customer shall provide transportation, accommodation and other expenses.
Application

Dedicated to printing and industrial, VR variable resistor, soft PCB process of high temperature sintering.

Related commodity

Cooperated Customers :

FAQ

•1. Q:Are you the factory or trading company?
• A:we are the factory, professional in manufacturing and R&D testing chamber equipments.

• 2.Q:Why choose us?
• A:We are the factory with own R&D team, we can provide you the relaible quality products while with reasonable price.

• 3.Q:How to get the quotation?
A:We usually quote within 24 hours after we get your inquiry. If you are very urgent to get the price, please call us or tell us in your email so that we will regard your inquiry priority

4.Q:How about your packing and shippment?
A:Products would be covered with air bubble film before put them into the wooden case, which not only has good shock absorption, impact resistance, heat sealing and also has the advantages of nontoxic, odorless, moisture corrosion, good transparency etc. By Sea or by Air are available.

5.Q:What's the Payment method?
A:30% by TT or By Western Union in advance, 70% balance paid before shipment.

6.Q: Where is your factory ?
A: Our factory located in Changan town, Dongguan city, Guangdong, China.(Near by Shenzhen and Guangzhou)
Cooperated Customers




Contact US

Website :dongguanjinyao.en.alibaba.com
Dongguan Jinyao Exactitude Equipment Co., Ltd
Address: Jingfu Road No 36, xiabian village, changan town Dongguan City China

Send your inquiry details in the below,click "Send" now!
Thank you for enter into our website.If you find any product interesting,please feel free to contact me.It is my great pleasure to service for you