Basket marine sea water filter
The basket filter is used on oil or other liquid pipelines, and the debris in the pipeline is filtered. The area of the filter holes is greater than 2-3 times the area of the diameter pipe, which is far more than the filter area of the Y-type and T-type filters. The accuracy of the filter belongs to a kind of the most accurate filter in the filter. The structure of the filter is different from other filters. Because the shape is like a basket, it is called a basket filter.
1.This kind of filter is an indispensable device for pipeline series to convey medium, and it is usually installed in the side of pressure reducing valve, relief valve, level control valve or the inlet of other equipments.
2.It is used to filter out the impurities in the medium to guarantee the normal use of the valve and the equipment.
2.This kind of filter is with advanced structure, small resistance and convenient pollution discharge.
Structure and How T-Basket Filter Work
The basket filter consists of the connecting pipe,main pipe,filter basket,flange,flange cover and fasteners.

When the liquid comes into the filter basket through the main pipe,the particle impurities will be trapped in the basket.The clean fluid will through the filter basket and be discharged from the outlet.When it needs to be cleaned,open the screw plug at the bottom of the main pipe rotationally,drain out the fluid.Remove the flange cover,the basket can be put in the main pipe for reuse again.So the use and the maintenance is super convenient.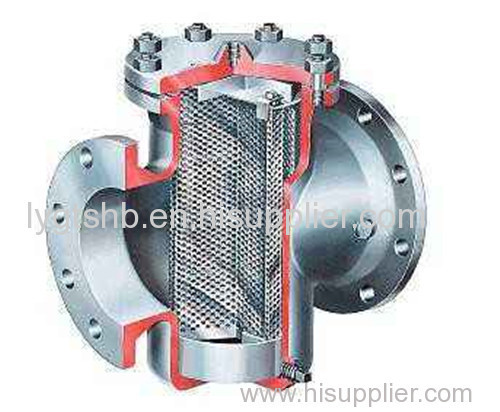 Application range
1.Applicable industry:Fine chemical industry,water treatment system,papermaking,automotive industry,petrochemical,mechanical processing,coating and so on.
2.Applicable liquid:All kind of the liquid with the micro particles.
Main filtration function:Remove the big particle,clean the fluid and protect the key equipment.
3.Type of filtration:Big particles filtration.It use the reusable filter material.It should be cleaned regularly by manual.
Product parameters
1Shell material: Carbon steel or stainless steel 201/304/316
2. Filter material: stainless steel
3. Sealing material: NBR, VITON
4. DN: 25-300mm
5. Pressure: 1.0Mpa, 1.6Mpa
6. Filter accuracy: 10-300mesh
7.Working temperature:≤95ºC;
8.Nominal diameter:DN15-DN600;
9.Nominal pressure:PN0.6-2.5Mpa;
10.Filtration precision:50um-8000um
11.Material of housing:Q235B,304,304,316,316L;
12.Material of seal:PTFE/Rubber;
13.Form of inlet/outlet:Flange/Inner wire/Outer wire/Quick installation
14.Form of cover compression:Bolt/Quick bolt
15.Suitable viscosity(cp):1-30000
16.Form of basket:Punching mesh/Single-layer mesh/Composite mesh