SPC Floor Introduction:
SPC rigid vinyl flooring is quickly becoming one of the most popular trends in home flooring. Installing SPC vinyl flooring offers the following benefits to homeowners:
· Waterproof: One of the biggest benefits of choosing SPC vinyl flooring is that it has a completely waterproof core. Unlike hardwood, it can be installed in areas of the home such as laundry rooms, bathrooms, basements, and kitchens. The waterproof feature also makes this board more stable in environments where moisture and temperature can fluctuate.
· Easy installation: Many homeowners appreciate that SPC floors are easy to install. They can be placed on top of many different types of subfloors or existing flooring. Most designs simply click into place, eliminating the need for messy and complicated glues.
· Affordability: While it is more expensive than standard vinyl flooring, SPC vinyl floors are generally less expensive that other types of luxury flooring, such as hardwood and stone. In addition, homeowners can often install the floors without professional assistance, so DIY installation of SPC flooring can save even more money on this upgrade.
· Style: SPC vinyl flooring is like standard vinyl in that it is available in a wide range of colors and patterns. Some of the SPC flooring styles are designed to look like hardwood, tile, or other types of flooring. The wide range of options is preferable for those who want to be able to customize the look of their home.
· Comfort: The thick, stable bottom layers of each plank make SPC flooring more cushioned than other types of flooring. The thicker the plank you choose, the more comfortable it will feel underfoot. These dense layers also contribute to a quieter sound when walking on SPC floors; they usually do not have a hollow or thin sound like standard vinyl often does.
· Easy maintenance: SPC rigid vinyl flooring is very durable. Because it is incredibly dense, it's resistant to impacts, stains, scratches, and wear and tear. This flooring style is a great choice for busy households because in addition to holding up well, it is easy to keep clean. Maintenance involves only regular vacuuming or sweeping and occasional mopping. Over time, this type of flooring will resist fading, peeling, and cupping, and it can withstand being directly exposed to sunlight.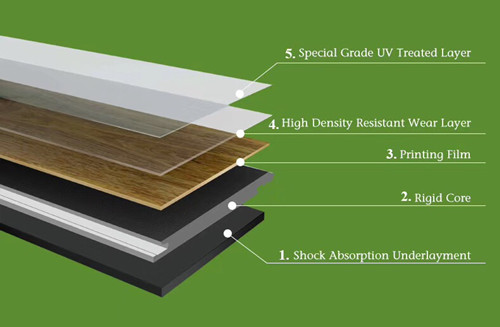 SPC floor is extruded by extruder and T-die , with four-roll or five-roller calender, respectively, PVC wear layer, PVC color film and PVC substrate, one-time heating paste, embossed products , The process is simple, close by heat to complete, do not need glue.
SPC Floor Extrusion Line Options:
SPC Flooring Machine

Conical twin screw extruder

parallel twin screw extruder

Model

92/188

110/220

115

136

160

Thickness(mm)

2-8

Width(mm)

1050,1350

Extruder motor(kw)

110

200

90

160/200

250

Output

15ton/24h

30ton/24h

18-22ton/24h

40-45ton/24h

60-65ton/24h
The SPC flooring sheet extrusion line includes:
1. Parallel twin screw extruder or conical twin screw extruder
2. Extrusion die head (1050mm/1350mm)
3. Horizontal type five-roller calendar
4. 2-station Film laminating device
5. Oil roller heating system (integral type)
6. Cooling supporting frame, with air cooling
7. Longitudinal edge cutting device
8. Haul-off machine
9. Cutter with length calculator
10. Automatic lifting device
11. Electrical control cabinet
12. On-line EIR system (optional)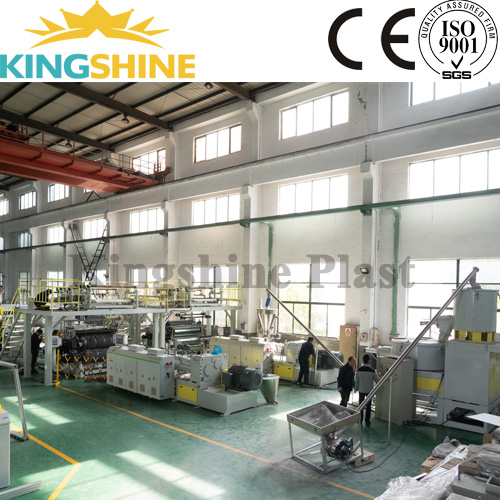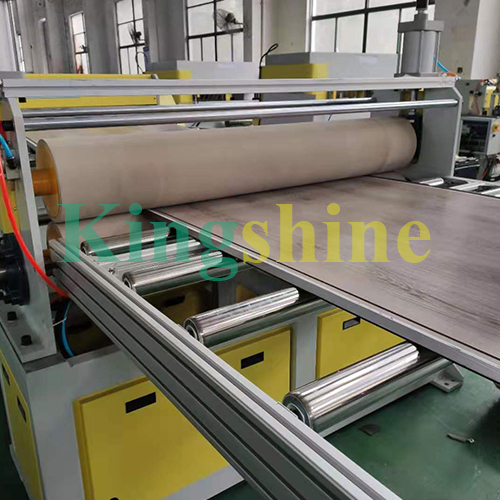 What machines required for the SPC floor production?
Step 1: Material mixing and recycling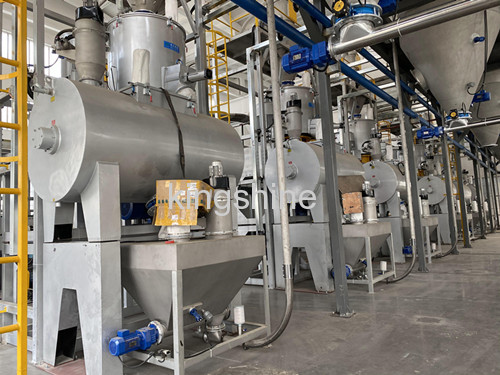 Hot-cold mixing machine, crusher and milling machine.
Step 2: Extrusion (laminting&embossing):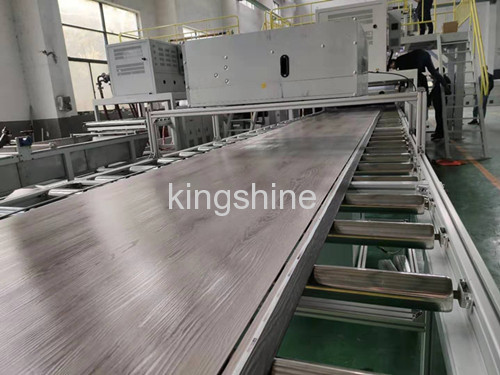 SPC floor extrusion line
Step 3:UV Coating

UV coating machine
Step 4:Cutting& Slotting

Cutting and slotting machine
Step 5: V shape groove UV coating (optional)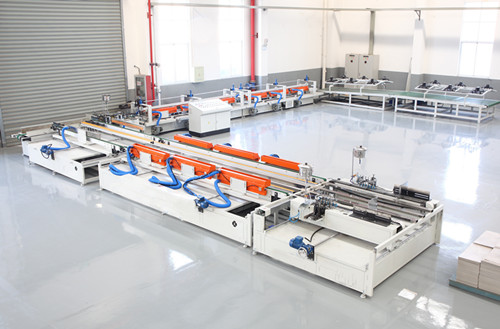 V-groove coating machine
Step 6: Underlayer laminating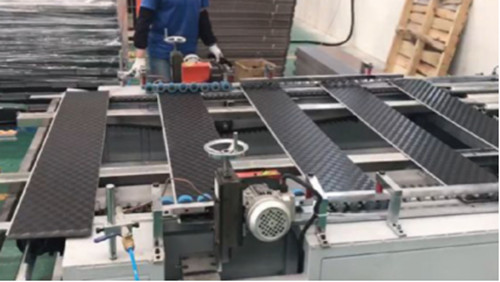 Hot glue laminating machine
About Us
Jiangsu Kingshine Plast Machine Co.,Ltd is one of the most professional plastic machinery manufacturing enterprises in China. The main production is SPC/LVT floor extrusion machine, PVC sheet extrusion machine, PVC/WPC door board/frame extrusion machine, PVC laminating/marble sheet extrusion machine, ect. Kingshine pay attention to technological innovation, actively introduce advanced foreign technology, and constantly develop new products.
Kingshine supply SPC floor production line not only machine but also formula and technology, help customer start the project with professional servic.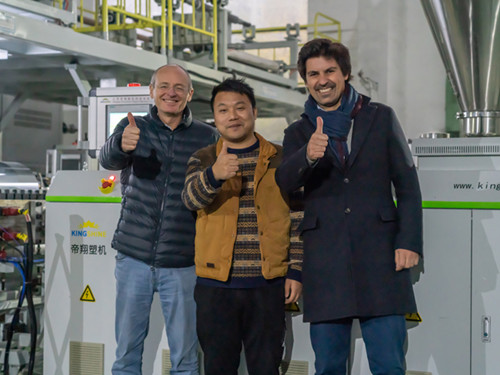 Our advantage:

European Standard Machines
On-line EIR technology which is our patent technology.
The most advanced parallel 136 stable using in market
Special Five-roller calender (Patent)
We participated the 5 years SPC floor development. We are always on the road of R & D and keep leading position.
We have large customer base in China, from which we get lasted news about SPC floor, we get demand, find problems, improve problems, test and verify new technology, to keep our machine stable running, meet customer's demand, and keep our machine the most advanced.
Our Service
Pre-sale service
-To provide information and market research.
-To provide consultation,to provide many kinds of conveniences and market service,etc.
-To help customers make the project planning and system requirements analysis.
-Take our products maximum to meet clients' requirements.
-To play the greatest overall economic benefits of customers' investment.
After-sale service
-To install products and test products freely for customers.
-To provide the formulas and technologies of relevant products and the information of chemical materials manufactories.
-To direct technology aspect of relevant use according to customers' requirements.
-To provide technical training for clients' employees.
-To be responsible for maintenance service, door-to-door service under the necessary circumstance.
Contact:
Joy Zhang
Int'l Sales Manager
Mobile/Whatsapp: +86 13405773767
Skype/Wechat: yizhang28