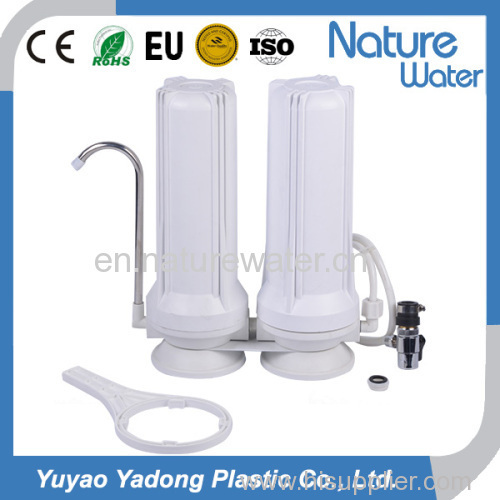 Name: 10'' FULL SIZE WATER PURIFER
2 stage white color kitchen table type tap Water Filter
Description :
Information:
double counter top Water Filter
10'' SIZE FILTER HOUSING WITH RIB CAP
Whole house of point of entry (POE) systems are typically installed on a home's main water line, trapping
sediment before it enters the house water supply. Investing in a whole-house filter will help protect clothes, fixtures and toilets against unsightly stains caused by iron
and rust particles. It will protect and extend the life of your appliances by removing sand, silt, scale and
other particles.
FEATURE:
(1):Ideal for a wide range of applications.
(2):Available with opaque polypropylene sumps .
(3):Thicker walls for increased strength .
(4):Max.working pressure:150 PSI.
(5):Broken pressure: 360 PSI.
(6):Cyc Testing:0-150PSI,100000 .
(7):Available port: 1/4".
(8):Other color is optional .
(9): Filter cartridge is optional .
(10): With plastic wrench
* 1th stage : pp filter pre-filter 5 micron sediment
* 2th stage : CTO filter pre granular activated carbon