Angricht Fittings——brass pneumatic fittings B202
RPCF brass fittings
Brass Fittings' Features:

1.Connection and disconnection of the tube can be repeated several times and is performed with one hand ,without using of tools.
2.Nickel-plated brass bodies ensures anti-corrosion and anti-contamination.
3.The sealing ring(O-ring) can be easily replaced if it is damaged.
4.Most all models available in inch and metric size.
Technical Data: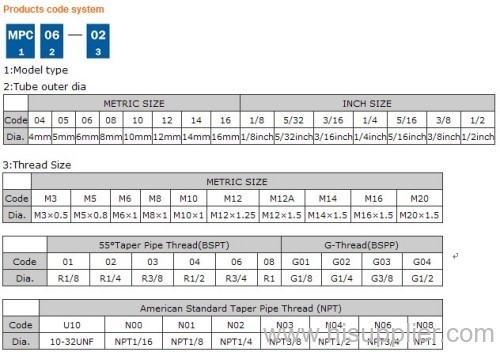 Brass Fittings' Specifications:
Mod diameter(mm) T(BSPP)

Mod diameter(inch) T(NPT)

B202-5/3-M5 5/3 M5

B202-5/3-G01 5/3 G1/8

B202-5/3-U10 5/3 U10

B202-5/3-M6 5/3 M6

B202-6/4-G01 6/4 G1/8

B202-5/3-N01 5/3 N01

B202-5/3-01 5/3 R1/8

B202-6/4-G02 6/4 G1/4

B202-5/3-N02 5/3 N02

B202-6/4-M5 6/4 M5

B202-6/4-G03 6/4 G3/8

B202-6/4-U10 6/4 U10

B202-6/4-M6 6/4 M6

B202-8/6-G01 8/6 G1/8

B202-6/4-N01 6/4 N01

B202-6/4-01 6/4 R1/8

B202-8/6-G02 8/6 G1/4

B202-6/4-N02 6/4 N02

B202-6/4-02 6/4 R1/4

B202-8/6-G03 8/6 G3/8

B202-8/6-U10 8/6 U10

B202-6/4-03 6/4 R3/8

B202-10/8-G01 10/8 G1/8

B202-8/6-N01 8/6 N01

B202-8/6-01 8/6 R1/8

B202-10/8-G02 10/8 G1/4

B202-8/6-N02 8/6 N02

B202-8/6-02 8/6 R1/4

B202-10/8-G03 10/8 G3/8

B202-10/8-U10 10/8 U10

B202-8/6-03 8/6 R3/8

B202-10/8-G04 10/8 G1/2

B202-10/8-N01 10/8 N01

B202-10/8-01 10/8 R1/8

B202-12/10-G03 12/10 G3/8

B202-10/8-N02 10/8 N02

B202-10/8-02 10/8 R1/4

B202-12/10-G04 12/10 G1/2

B202-10/8-N03 10/8 N03

B202-10/8-03 10/8 R3/8

B202-12/10-N03 12/10 N03

B202-10/8-04 10/8 R1/2

B202-12/10-N04 12/10 N04

B202-12/10-03 12/10 R3/8

B202-12/10-04 12/10 R1/2