Chain Link Fence

Chain link fence, also known by some as cyclone fence, is one of the most popular choices of fence for both light residential to heavy commercial fence applications. Chain link fence is one of the most practical styles of fence, relatively easy to install, and very cost effective.


Applications of Chain Link Fence:

Our fence experience ranges from all phases of residential fence construction to the most difficult and specification-based industrial security fencing applications, including professional baseball ball stadiums, stringent nuclear plants, and high security airport fence jobs. We've fenced in buildings, inside of buildings, on roofs, in fresh and saltwater; we've even fenced in lions, tigers, and bears!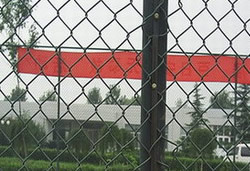 Specifications of Chain Link Fence:

Electro Chain Link Fencing With 7-15G per Square Meter Zinc Coating;
Hot Dipped Galvanized Chain Link FencingWith 35-400G per Square Meter Zinc Coating;
PVC Coated Chain Link Fencing (Green, Black, etc.)
Opening

1"

1.5"

2"

2-1/4"

2-3/8"

2-1/2"

2-5/8"

3"

4"

25mm

40mm

50mm

57mm

60mm

64mm

67mm

75mm

100mm

Wire diameter

18# - 13#

16# - 8

18#-7#

1.2 - 2.4mm

1.6mm - 4.2mm

2.0mm-5.00mm

Length of the roll

0.50m - 100m(or more)

Width of the roll

0.5m - 5.0m

Materials and specifications can be made according to customers'detailed requirements.