HEXAGONAL WIRE MESH


Hexagonal wire mesh is also known as the
chicken mesh
. Hexagonal wire netting is manufactured in quality mild steel wire, stainless wire,etc.It is extensively used in building as reinforcement of the proof, floor and light, protection for poultry farms,birds cages, tennis courts and fish garden and children playground.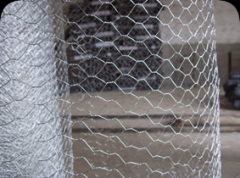 Process of hexagonal wire netting
: Galvanized after weaving or galvanized befor weaving
Finish treatment:
Electric galvanized, hot-dip zinc plating, stainless steel or PVC coated
Weaving pattern
: Straight twist, reverse twist, double twist
Mesh
wire dia
assortements available
1/2''
SWG22,23,24,25
Hot-dipped galvanized after weaving
Hot-dipped galvanized before weaving
Electric galvanized after weaving
Electric galvanized before weaving
Hex.wire mesh in normal twist
Hex.wire mesh in reverse twist or double twist
PVC coated
5/8"
SWG22,23,24,25
3/4"
SWG21,22,23,24
1"
SWG20,21,22,23,24
1-1/4"
SWG19,20,21,22
1-1/2"
SWG18,19,20,21,22
2"
SWG18,19,20,21,22
3"
SWG18,19,20














The above is just part specification of our products, you are welcome to sign into our website for detailed information.I am sure that you will satisfy with our product. Look forward to your email or phone!