XFRUL4 Three Elements Combination Set

1) AC.BC series air filter combination
2) Fast delivery
3) Best service
4) Huge selection of products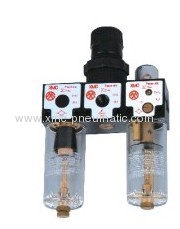 This series include air filter,pressure regulators,Lubricators and their combinations. The joint screw is G1/4. The components are light instructure
Connection Mode
Note:
A-Adjusting needle value; Adjust oil quantity
B-Filler hole bolt: When filling oil, first cut off the air source, then remove B and add oil to the specified height. After filling oil, fix B to ensure the air-tightness.
C-Pressure adjusting hand wheel; When adjusting pressure, life C vertically to the position for adjustment. Turn C and adjust until the required pressure is obtained. Then hold down vertically to keep the pressure stable.
Special Instruction
1\For the air filters, filter regulators and lubricators which water bowls, oil bowls and oil windows are made of polycarbonate:
1) They can not be used in the medium or circumstance below:
Acid (hydrochloric acid, vitriol, phosphate, chromate), Alkali (Sodium hydroxide, Potassium hydroxide, autunite hydroxide, ammonia, sodium carbonate), Inorganic salt ( sulfureted sodium, Niter, Glauber's salt).Chlorin impregnant (tetrachloride, chloroform, chloridize ethane, chloridize methylene),Aromaticity(Benzene,cycloparaffin,enol).Ketone(Acetone, butyltone).Alcohol(alcohol, carbinol),oil(gas, coal oil, alkalescence water-solubility cutting liquid),Ester,Aether,Amine,Screw encapsulant,seawater.
2\In order to avoid too much pressure fall, the outlet pressure should be controlled lower than 85% of inlet.
3\If the air flow is not enough, the lubricator will not drop the oil. So the air flow of the lubricator must be satisfied for the oil drop requirement.
4\The oil of the lubricator must be Turbine No.1 Oil ISOVG32.The components will be destroyed if you use another kind of oil.

How to Order
1\Give a clear indication of product denomination, order number, specification and quantity when placing an order.
2\For orders of filter, pressure reduction valve and filter pressure reduction valve etc., please specify the filter precision and pressure range. Otherwise, goods of conventional specifications will be supplied.
3\For special requirements, please explain to us through personal visits or correspondences. Any problems can be settled through negotiation between us.