Wire Drawing Machines for drawing wires from 8 mm / 6 mm to 1 mm can be offered with the total equipment for 4 blocks to 9 blocks, depending on the inlet & outlet size, the speed of wire drawing.
The Drawing Blocks are internally water cooled by multijet spray. The Blocks are manufactured from special quality cast iron, while the Die Box Comprise two separate compartments, One for the dry shop drawing lubricant, And another for water cooling of the die. The box is adjustable in vertical & horizontal positions.
The Machines have rear steel plate guard. Wire mesh guard is also provided covering the units from front. All mesh guards are electrically interlocked. Hence when guard is open entire machine will shut down.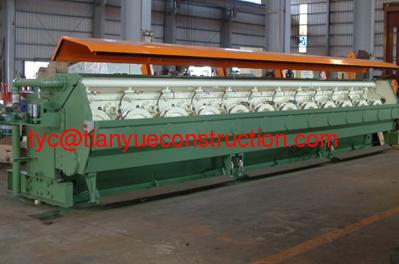 Theoretically there is no limit as far as the wire material or wire diameter is concerned to be drawn on these machines. ASSOMAC has pioneered to indigenously develop the Straght-Line Wire Drawing Machine Technology in India. Presently the range available is capstan diameter 900mm, 750mm, 600mm, 550mm, 500mm, 460mm, 400mm and 300mm for inlet wire diameter 16mm down to 0.5mm. Line speeds upto 22 Mtrs / Sec.
These heavy Straiht Line Wire Drawing Machines provide remarkable drawing performance for Low, Medium and High Carbon Steel Wire, Stainless Steel Wire and special Alloy Steel Wire and Non-Ferrous Alloy Steel Wire.
This machine has a sensor roller between the drum and the next die such that the wire passes in contact with this roller. These rollers have sensors to detect the position of the arm and maintain tension on the wire by regulating speed of the drums. The drums of this machine are inclined to the vertical axis to effect fill on the drums. Principally this machine is best suited for thick wires.
Features of Straight Line Wire Drawing Machine:
·Machines are built on modular structure, in combination of Blocks and do not require any special foundation.
·Better productivity due to higher drawing speeds due to twist-free operation.
·Easy operation and faster threading.
·High pressure Narrow gap, internal water cooling for high efficiency cooling of wire.
·High degree of reliability - low downtime due to lower no of wear parts.
·Much better finish wire quality due to a gentler handling of the wire during the drawing process (less wire deviations, low torsion etc.) as well as an optimized wire cooling.
·Pneumatic high speed brake system.
·Better environmental conditions due to increased dust protection.
·Greater flexibility and lower current consumption due to modern AC drive technology and efficient power transmission system.
·PLC based control with profibus digital communication and fault diagnostic system.
OTO Type Wire Drawing Machine
Assomac offers wide range of high speed state of the art study. O.T.O./ B.B. Type Wire Drawing Machines. The construction of the machine is such that it can withstand rugged workshop conditions of Wire Drawing Plant and can guarantee the performance and accuracy with least maintenance. These O.T.O./B.B. Type Dry Wire Drawing Machine have wide field applications in Stainless Steel, High Carbon Steel, Alloy Steel, Mild Steel, Copper Wire Drawing. The wire is drawn through a die which is fitted in independant Die Box and is accumulated on the Block, and later being taken through the OTO Pulley to the next Die. BB Block is Twist Free Type Machine with Free Bobbin Block for accumulation and transfer to next block and is better for higher speed & better finish materials.
SALIENT FEATURES :
·760/650/610/560/450/350/300mm Single / Multi Speed, Non-Slip, Block Type, Continuous Dry Wire Drawing Machines.
·Continues Type in Line Machine for Large Cross Sectional Reduction Inlet size up to 12mm. Wire Rods
·Combination with 'B.B.' Type Machines for High Speed Applications. AC fixed speed with Speed Change Gear Box or variable speed A C / D C Drive is offered
·Heavy Duty Worm and Worm Wheel type Fabricated Gear Boxes with Standard Greaves (RADICON) & NAW Gears.
·Combinations of Heli-Worm or Bevel Helical Gear Reduction if required. Dry/Wet Lubricant Type Die Boxes with Optional Rotating Die and Motorized Soap Applicators
·Die Chamber with Forced Water Cooling Indirectly or Directly.
·Dptional Pneumatic/Electro Magnetic, Brakes on Machines
·Operator Consol provided on Independent Block or Common Floor Standing type Control Desk
·Inching with Foot Operated Pedal Switch Reverse/Forward.
·Graded Cast Iron Drums with Chrome Carbide Hard Matrix at Drawing Portion. 1 Forced Water Cooled Drums for Longer Drum Life and Cooler Drawn Wire.
·Additionally Air Cooled Drums with specially Designed Uniform Cooling Air Jackets Wire Unloading Trough Stripper Blocks, Dead Block Coiler or Spooler.
Accessories
Wire Pull-in-Dog
Wire Pointing Machine
Wire Stripper
Pay off Stand/Coil Binders
Wire Rope Hoist
Straightening & Indenting Rollers
Wire Butt Welders
BB Type Wire Drawing Machine
Application :For Drawing Stainless Steel / High Carbon Wire
Twist free with High Torsion Values Specially for Spring Grades.
Capstan :560 / 460 / 400 / 350 / 300mm
Inlet :5.5mm to 1.6mm
Finish :4.0mm to 0.6mm
Speed :5 to 15 meters /sec.
Drive :State of the Art A.C Frequency Converter Variable Speed Control