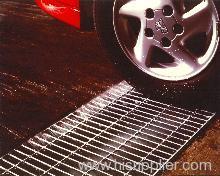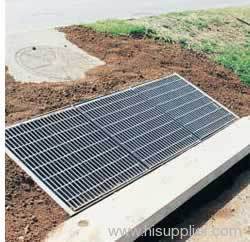 Features
:
1) Light weight
2) Non-magnetic /insulation
3) corrosion & chemical resistant
4) slip & aging resistant
5) fire resistant
6) easy cut
7) excellent laudability
Color
: Available in yellow, green or grey, light grey is our stock color. For larger quantities, other Rail color is available upon request.
Surface treatment
: can be covered with a 3 or 6mm thick solid fiberglass gritted plate.
Surface styles
: smooth, concave, and gritted.
| | | | | | |
| --- | --- | --- | --- | --- | --- |
| Load class | Name | Length, mm | Width, mm | Height, mm | Weight, kg |
| A | Drainage grating - 10.13,6.100 - steel stamped (galvanized) | 1000 | 136 | 3 | 2,0 |
| A | Drainage grating - 10.13,6.100 - stainless (stamped) | 1000 | 136 | 3 | 2,1 |
| A | Drainage grating - 10.13,6.100 - copper (stamped) | 1000 | 136 | 3 | 2,2 |
| A | Drainage grating - 10.13,6.100 - bimetallic (stamped) | 1000 | 136 | 3 | 1,7 |
| A-B | Drainage grating - 10.13,6.100 - steel mesh (galvanized) | 1000 | 136 | 3 | 3,3 |
| A-C | Drainage grating - 10.13,6.50 - VCH-50 class C (mesh) | 500 | 136 | 15 | 2,6 |
| A-C | Drainage grating - 10.13,6.50 - VCH-50 class C (slotted, galvanized) | 500 | 136 | 16 | 3,3 |
| A-C | Drainage grating - 10.13,6.50 - VCH-50 class C (mesh) | 500 | 136 | 15 | 3,2 |
| A-C | Drainage grating - 10.13,6.50 - VCH-50 class C (mesh, galvanized) | 500 | 136 | 16 | 3,4 |
| A | Drainage grating - 10.13,6.50 - plastic (mesh) | 500 | 136 | 18 | 0,5 |