Armature coil winding machine is used for automatically hook type commutator armature winding, it is suitable for winding medium and big wire diameter armature. Automatic feeding, winding, indexing and wire cutting,only load and unload armature from material loader. Equipped with touch screen and PLC, winding parameter could be set and modified on the screen. We also have armature winding machine equipped with conveyor, operator only need to put several pieces of armature on the conveyor at one time, then machine will finish all the armatures automatically. Below parameter is for our standard machine, we could produce armature winding machine according to customer's armature samples accordingly.

Technical Parameter of this armature winding machine:

Item

Specification

Wire diameter

Magnetichysteresis method:0.25~0.55mm

Electriccontrol method:0.30~1.85mm

Armature O.D range

20~60mm

Stack diameter

10~60mm

Shaft diameter

3-5mm

Shaft length

Less than 300mm

Armature slot

Odd, Even slot

Turn number

0~9999

Commutator diameter

18~40mm

Winding speed

0~3000 rpm

Winding motor power

4kw

Angle detecting speed

0~3000 rpm

Angle detecting motor power

0.75KW *1

Air supply pressure

4~6 Kg/cm2

The machine total power

4000 W

Voltage

Three phase AC380V 50/60Hz

Weight

1180Kg

Dimension

2000(L)X1300(W)X1800(H)mm
Main Configuration:

Indexing servo motor: 750WX1 spindle: Omron
Winding servo motor 1500WX2 spindle: Omron
PLC: Omron
Interface module: Omron
Extension module: Omron
Relay: Omron
Proximity: AUTONICS
Touch screen: 7", WEINVIEW
Air switch: MITSUBISHI
Combined power source double loop: NIDE
Power Switch: MINGWEI
Circuit breaker: DELIXI
Indicator and button: SCHNEIDER
Ball bearing: UBC(USAbrand)
Sliding bearing: MISUMI (Japanbrand)
Transmission linear guide: ABBA or Shangying or CPC
Working plate: 80mm thick nodular cast iron
Winding transmission base: nodular cast iron
Indexing transmission base: nodular cast iron
Winding flyer: aluminium die-cast alloy, double spindle balancing adjustment (easy for disassembling)
Indexing spindle: 4 section standard
Winding tooling: fast changing without tools, integral quenching HRC60-62
Buffer(small): CKD (Japanbrand)
Buffer(big): AIRTAC
Cylinder: AIRTAC
Air source treatment elements: SMC
Electromagnetic valve: SMC
Tensioner: MITSUBISHI electric magnetic powder tensioner (wire diameter range: ¢0.3~¢1.2mm)
Or WANNER (Switzerland brand) magnetic tensioner(wire diameter range: ¢0.2~¢0.45mm)
Or HMT-04 (Hangzhou Puwei) magnetic tensioner(wire diameter range: ¢0.2~¢0.45mm)
Feature:
Three winding mode: single slot-single hook, single slot-double hook and double layer winding. It could do twice winding in one slot, four times winding in the two adjacent slots. It has automatic treatment for wire broken, 2 settable sequences is: winding before broken, or broken before winding.
Production parameter for 100nos armatures could be stored
Display parameter, including shift output, total output, consuming time, etc.
Automatic alarm if any abnormal condition occurs
Single action, automatic and stepping operation could be switched
Steady fixture, up and bottom protective tooling and protective wire hooking device
Loading mode: cylinder feeding armature automatically, get out finished armatures manually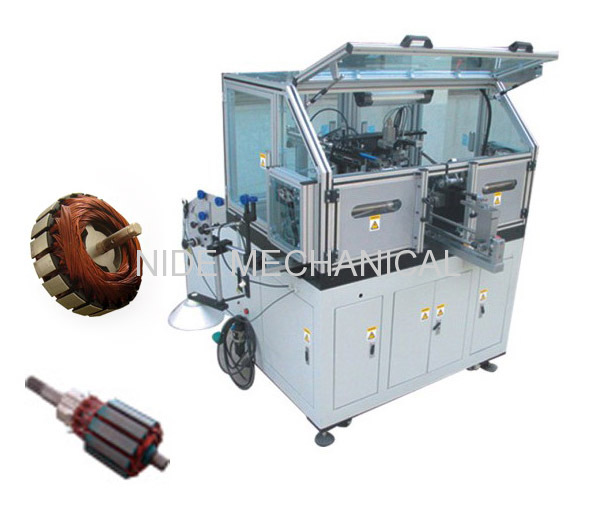 FAQ:
1. What is the price of this machine?
A:Firstly,we need to check your armature drawing,winding diagram(including wire diameter and turn number),so that we could check whether the machine is suitable for you or not.If not,we will recommend suitable machine for you,then give you official quotation.
2. What is the production efficiency of this machine?
A.Around 1000pcs/8 hours,it is only a rough idea,depends on the armature slots number and turn number.
3. What is the operation steps of this machine?
A. Load armature on the shuttle manually,press START button,shuttle will deliver the armature to the winding position,and automatic winding,indexing and wire cutting,after completing, the shuttle will take out the finished armature from winding position,operator unload the finished armature,one cycle is completed.
4.What is the common malfunction of this machine?
A.Sometimes,there is servo alarm displayed on the touchscreen.In this case,there will be error code displayed on the servo driver(at the backside of machine),you could identify the problem according to the error code. The most common malfunction is the encoder cable which connects the servo driver and servo motor is loose,just need remove and reinsert the encoder cable again,problem will be solved.
5.Whether the tension value can be changed for every step?
A.There are four tension value for each step can be changed in the touchscreen: Standby tension value,Index tension value,Hang(Hooking) tension value,and Winding tension value.Refer to below picture: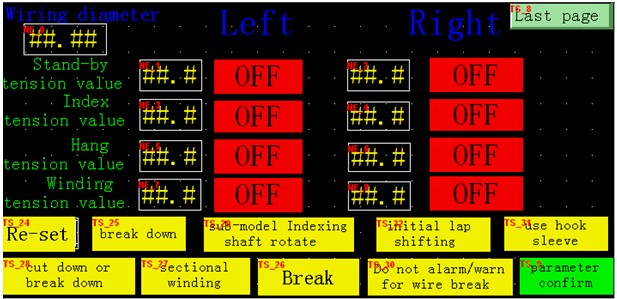 Fixture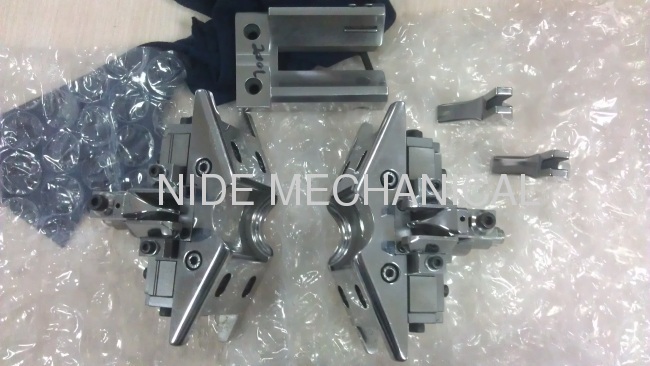 Hooking protective tube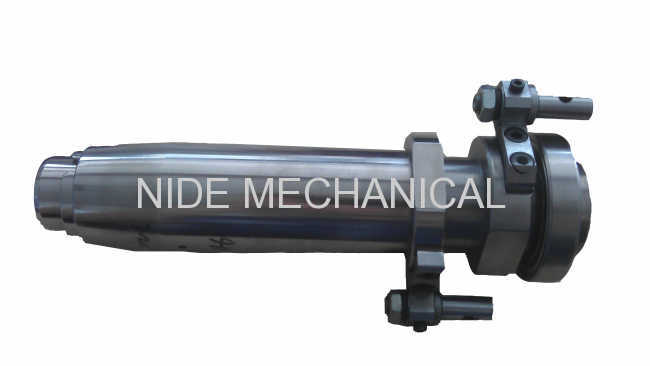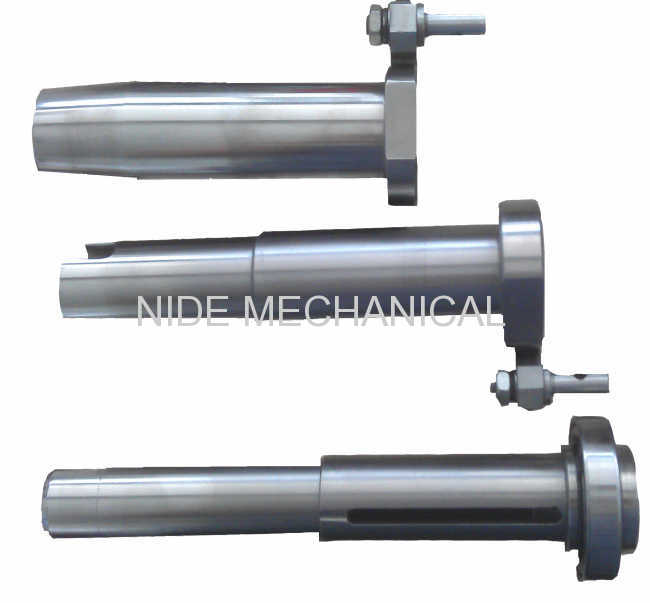 Finished armature