ER70S-6 WELDING WIRE/ MIG WELDING WIRE/ SG2 WELDING WIRE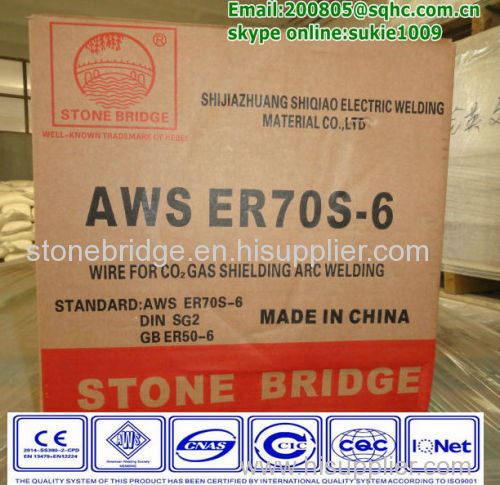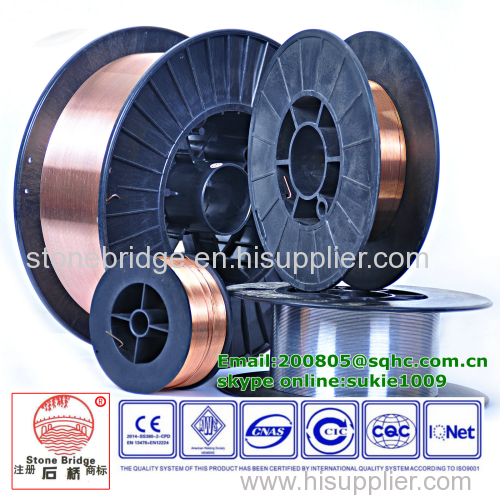 Diameter (mm) 0.8/0.9/1.0/1.2/1.6
Package 5/15/20 kg.Carton 72 spool per pallet
Spool: D200 270 300 K300
70S-6 is a low carbon, high manganese, very high silicon electrode. Used where higher alloy (manganese and silicon) is needed. Allows welding over some rust and dirt. Shielding gases range from CO2 to high Argon Blends.
ADVANTAGE
Excellent Welding
•Characteristics-ER70S-6 Wire renders good wetting action, straight bead edges, excellent arc action and high resistance to rust or mill scale porosity.
•Better Wire Feeding- less down time, higher productivity consistently stiff wire, no soft spots. Unique drawing method and special lubricants provide a smooth surface appearance, less friction in the wire feeding system, and elimination of copper coating flaking during wire feeding.
•More Resistance to porosity in the weld deposit.
•Contamination on the wire surface is minimized in the manufacturing process.
•Quality Control of wire chemistry. Each incoming heat of raw material is carefully analyzied. This attention to quality control assures consistent wire chemistry for uniform user results in the field.
•Manufactured under a quality system certified to ISO 9001 requirements.
WELDING POSITIONS :ALL POSITION
TYPICAL APPLICATION
• Construction Equipment
• Agricultural Equipment
• Automotive
• Ornamental Iron
• Sheetmetal Containers
• Ductwork
• Tubular Framework
• Light to Heavy Structural Steel Fabrication
•Any Application Where a "Finished" Weld Appearance is Desirable
CONFORMANCE
Conforms to ER70S-6 per
AWS A5.18
ABS : 3YSA
CCS : 3YSM
DNV : IIIYMS
Contact information: skype online: sukie 1009 phone:0086-15931105031