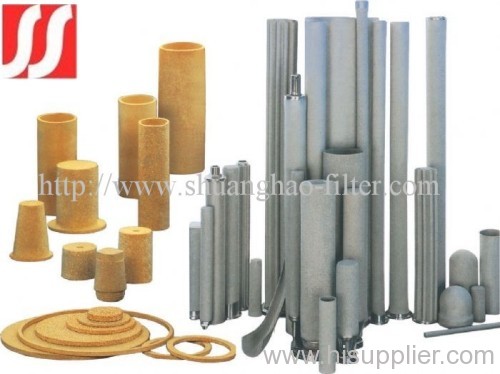 Shuanghao specialized in Sintered Metal Filter. Through strict control of every step of the production process (including the distribution of powder particles, forming and sintering process), we produced sintered metal filter has excellent mechanical strength, accuracy and longer filter life. We can offer single-port tube, pipe, welding the various flanges, nozzles, welded pipe, filter, filter ring, filter, filter rods, filter cone, plate, strip, etc.
Usage:
1. Catalyst filtration and separation;
2. Petrochemical industry high temperature gas filtration, petrochemical plant fluidized bed exhaust filter;
3. Metallurgical industry high temperature gas purification;
4. Other high-temperature gas and liquid filtration;
Sintered metal filter are using widely. In addition to the above-mentioned broad categories, it can also be used in many other areas. For example, pneumatic; ammonia, ammonia, chlorine, fluorine gas filter, polyester filter; methanol, benzene and other organic solvents filtration; protein filter, hydraulic oil, fuel oil filter, gas filter, steam, high temperature gas filtration water injection filter; water filter, alkaline filter, liquid filter with the fine food and beverage; dye, ink, wax and sulfur and other chemical products industries. Porous metal powder is a traditional filter paper filter material, carbon rod, diatomite, and a variety of imported mining polyethylene filter cartridge replacements.
Features:
With different porosity (28% -50%), aperture (1u-160u), channels are crisscross, high temperature, rapid thermal quench resistance. Corrosion resistance. Applicable to a variety of acid, alkali and other corrosive media. High strength, good toughness. Applicable to high-pressure environment. Can be welded, easy loading and unloading. Holes form stable and uniform distribution, to ensure stability and filter performance. Regeneration of good performance. Again cleaning filter performance after regeneration to 90%. In nitric acid, sulfuric acid, acetic acid, oxalic acid, phosphoric acid, 5% hydrochloric acid, molten sodium, hydrogen, nitrogen, hydrogen sulfide, acetylene, water vapor, hydrogen, gas, carbon dioxide gas in the environment.
Standard material:
1. 304L and 316L stainless steel;
2. Hastelloy B, C, 276, and X;
3. Inconel 600/625;
4. Other materials, please consult with our company.
Demand side of the product specification size, performance, special requirements, and can be requested production of various shaped pieces side. A variety of products production, packaging and transportation all the national standard. Huan Ying Zi Xun calls come, we offer free Guolv selection , filtration system design and budget services.