IPL+RF spot removal beauty equipment
IPL+RF hair removal equipment Q3000

CE approved, ISO13485, and SFDA
Last but not the least: One-year warranty and lifelong technical service!

All IPL machinery can be compatible in the these aspects,

(1)Machine hand piece(treatment head)
(2)Sapphire filters
(3)LCD operating windows, it contains common LCD window and Colorful cartoon LCD window.



Advantage:

Spot size: 10*40mm for treatment to different part of body.
One hand piece with several changeable filters with multifunction
Sapphire filter for excellent cooling for better treatment and protection
Logical software with 2 kinds of languages, color touch screen
Two attactive touch screen (Q2000) style with CE certificated. Three treatment heads has the following function:



The function:

1) Hair removal
2) Acne clearance
3) Skin rejuvenation
4) Pigmentation treatment
5) Vascular treatment.



Technical Parameters:

Screen:8.4 inch colorful touch screen.
Power supply:AC220Vup or down10%,5A,50Hz (Or 110V,50/60Hz)
Dimension: 41cm*45cm*94cm
Package Size : 53cm*56cm*108cm
First pulse:1-40MS
Firs delay:1-15MS
Assistant pulse:1-40MS
Assistant delay:1-15MS
Repeat pulse;1-10MS
Repeat delay:1-15MS
Pulse number:1-15
Repeat frequency:1S,2S,3S
Spot size:1040mm
Energy density:1-50J/CM2
Input power:1000W
Net weight:34KG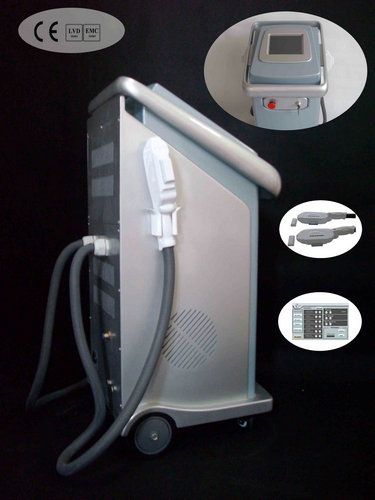 Accessories: