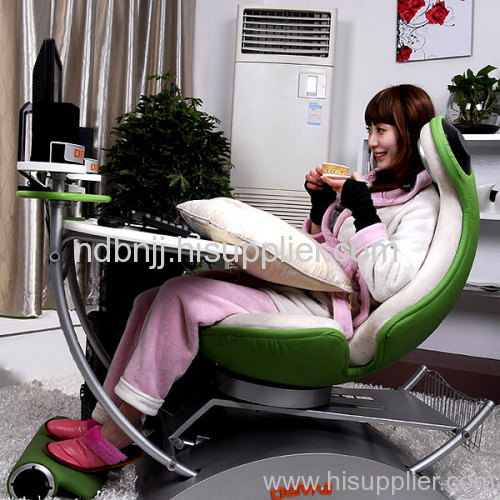 FEATURES:

1,Design the appearance as frogs according to the bionics, lively and lovely, beaming with the modern taste.
2,Apply the design of jointing the desk and chair, apply the design of jointing the desk and chair, thus synchronize human and the machine, also saving room.
3,Adopt several crafts as overall high-class metallic painting, panel mould pressing, wood bending and pipe bending, endowing the product with higher texture.
4,The seat can be adjusted: up-down adjusting range about 10 cm, left-right range 360°, and equipped with pedals.
5,Remote control can adjust the posture within 15°, keeping the distance between eyes and the screen unchanged during the adjustment.
6,The seat is equipped with hi-fi system, connected synchronously with the host and installed with concealed power-amplifier, which can play the music around 360°and make the high- definition tone quality linger in the air.
7,The attachments include fashionable hold pillow, host case, installation instruction, after-sale card and remote control.