Corner ground roller assembly (tri-roller )
Order

number

Model

Rated load (kN)

Applicable

diameter (mm)

Weight

(kg)

21221

SHL2

10

≤Φ150

12

21222

SHL2N

10

≤Φ150

10

21223

SHL3

10

≤Φ150

11

21224

SHL3N

10

≤Φ150

9
·notes :
1. they can be built up arbitrary turning angle on requirements.
2. the model with N is nylon roller .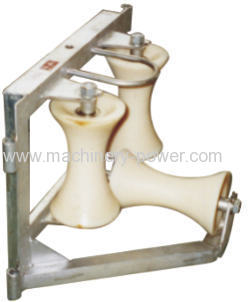 Jingyuan always consider the viewpoint and demand of customers when we empolder new products.We also carry out the international quality of ISO9001 management system attestation, with its strict control standard for product quality. Jingyuan product has already been adopt by whole country extensively. According to the actual application within the scope of local electric power system for several years, the electric power implement of Jingyuan has been confirmed with high efficiency,convenient maintain and good after-sales service.