Product Description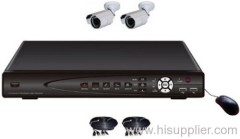 2CH H. 264 CCTV Surveillance Kit, CCTV Security System Kit (BE-8014RI2)
Features:
1. 1PCS BE-8104V:
A. 4CH DVR, Compression format: H. 264, With VGA output, BNC 4CH In/2CH Out, 1xUSB Mouse, 1x IR Remote Controller
B. Display Frame Rate: PAL: 704*576; NTSC: 704*480
C. Record Frame Rate: NTSC: 30/704x480; 60/704x240; 120/352x240;
PAL: 25/704x576; 50/704x288; 100/352x288
D. Supports USB2.0 mouse, remote controller, operating;
E. Network: 1 RJ-45 10/100Mbps Ethernet connector
F. DVR can be connected to PC monitor, TV set and LCD Monitor.
G. Support Multi-language OSD
H. Audio: 1CH In /1CH Out
2. 2PCS BIRI-42(1/3" Sony CCD, 420TVL, 30 PCS Φ 5mm IR-LED, 3.6 mm Lens, IR Distance 40M)
3. 1PCS 1-in and 2-output power adaptor for CCD cameras.
4. 2PCS 20M 2 in 1 (Power+Video) extension cable with BNC connector.
OnlineAdd to Basket