giftpacking.net offers one of the newest and largest selections of cake toppers and wedding cake toppers including monogram cake toppers, unique cake toppers and much more. Each wedding cake topper is manufactured by us or chosen from the best suppliers to make your wedding cake tops unique, custom and personalized. Whether you are looking for wedding cake toppers, anniversary cake toppers, or birthday cake toppers let giftpacking.net be your source for all the hottest cake toppers online.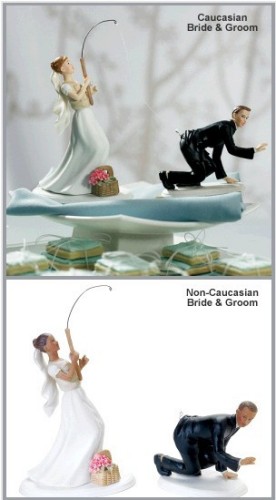 Gone Fishing Interchangeable Cake Topper

This takes the saying "Gone Fishing" to a whole new level. Fun and playful, this cake top can be used with equally playful tied bundles of tiered cookies or currently popular cup cakes.
Hand painted resin figurines. Brides are wearing a fishing vest and fishing poles actually have twine attached to the groom's pants. Mix and match with our other interchangeable cake toppers!
Bride and Groom sold separately.
"Fishing" Bride Figurine
5" H Bride, 6 1/4" with fishing pole
"Caught" Groom Figurine
3" H
Available in:
Caucasian - Light Complexion
Non-Caucasian - Darker Complexi