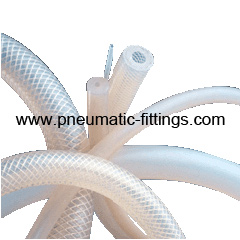 Product Infomation:
Forbest manufacturing offers a broad range of silicone tubing and tube products made from this versatile material, including platinum cured silicone tubing and silicone tube to ensure the least possible extractables. Our state-of-the-art, clean room is designed for manufacturing products particularly suited to medical applications. Also, our industrial grades silicone tubing offer exceptional performance at relatively lower charges.
Silicone tubing has been used for medical tubing, as it meets the medical industry's requirements for cleanliness and non-toxicity. Another of silicone's major features — resistance to extreme temperature variations — has enabled its use in applications where a flexible tubing is needed to handle temperatures not possible with other plastics or rubbers.
A rubber-like thermoset material, silicone tubing and tube is extremely pliable and elastic, and it is not altered by the effects of weather.
Property:
Operating temperature: -50℃ ~ 200℃
With good flexibility and arc resistance performance .
Products Characters:


| | | |
| --- | --- | --- |
| PROPERTY | high tensile and strength tubing | FDA ( common tubing ) |
| Dielectric strength(Kv/mm) | ≥7.0 | ≥7.0 |
| Hardness Shore | 50-70shore A | 50-70 Shore A |
| Tensile Strength(Mpa) | ≥8.2 | ≥6.5 |
| Tear Strength (N/mm) | ≥21 | ≥14 |
| Elongation(%) | ≥480 | ≥296 |

Standard Size:

Size

Insaid Diameter

Wall Thickness

(mm)

(mm)

Package M/Roll

Ø1.0

1.0±0.1

0.50±0.1

100M/R

Ø1.5

1.5±0.1

0.50±0.1

100M/R

Ø2.0

2.0±0.1

0.50±0.1

100M/R

Ø2.5

2.5±0.2

0.50±0.1

100M/R

Ø3.0

3.0±0.2

0.50±0.1

100M/R

Ø3.5

3.5±0.2

0.50±0.1

100M/R

Ø4.0

4.0±0.2

0.50±0.1

100M/R

Ø5.0

5.0±0.2

0.50±0.1

100M/R

Ø6.0

6.0±0.3

0.50±0.1

100M/R

Ø7.0

7.0±0.3

1.00±0.2

50M/R

Ø8.0

8.0±0.3

1.00±0.2

50M/R

Ø9.0

9.0±0.3

1.00±0.2

50M/R

Ø10

10.0±0.3

1.00±0.2

50M/R

Ø12

12.0±0.3

1.00±0.2

50M/R

Ø14

14.0±0.3

1.00±0.2

50M/R

Ø15

15.0±0.3

1.00±0.2

50M/R