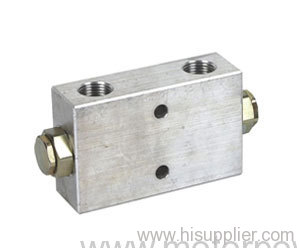 Screw Thread Type Hydraulic-operated Check Valve

Our Screw thread type hydraulic-operated check valve is less susceptible to failure. You can trust Screw thread type hydraulic-operated check valve to do the job as specified. It can perform consistently and reliably for years. Our Screw thread type hydraulic-operated check valves are enabling creative solutions. You can read off the performance on the chart.

Technical Specification of Screw Thread Type Hydraulic-operated Check Valve

Model
03
06
Maximum pressure (Mpa)
31.5
Maximum flow (l/m)
63
100

Specifications
1. We are the professional manufacturer of the valve
2. Superior quality and competitive price;
3. In stock, delivery short

Advantage:
1. Unique design and beautiful appearance
2. High platform structure and connection to ISO 5211, making installation of electric/pneumatic actuator more professional
3. For the valve body is overlaid with reinforced bar, it can be permanently used in caustic media, keep itself from cracking and avoid the failure of parts of valve during installation
4. Grinding process of valve stem to reduce the moment of electric/pneumatic valve during assembly and make it run more flexible
5. The body of carbon steel ball valve is phosphate coated, fast to light, rustless, durable and beautiful.