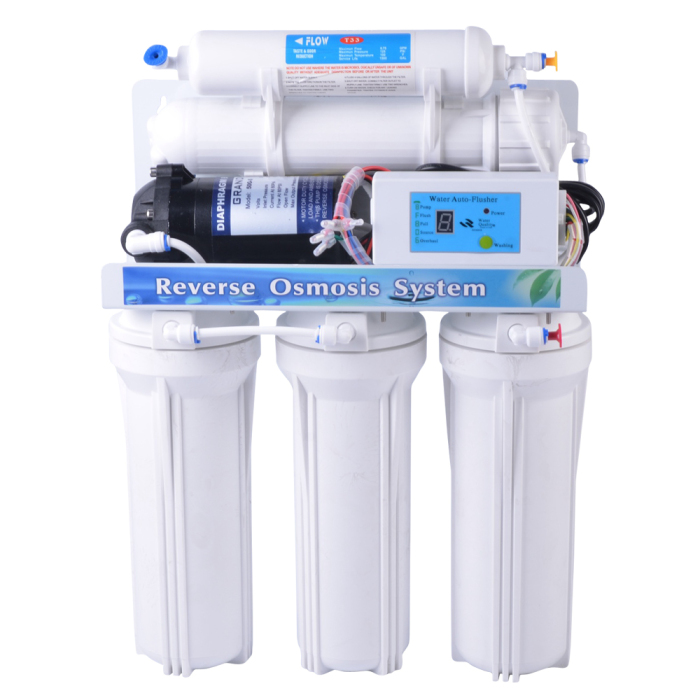 Description: 5 stage Reverse Osmosis home System with digital display & plastic bracket
ro water filter
Model : NW-RO50-C1 under sink water filters
Reverse Osmosis system
RO system water filter with plastic bracket
Description: 5 stage RO system with 5steel shelf.
Capacity: 50GPD (75G/100G)
Flash type: Auto-Flash controlled by micocomputer.
Power Supply: 220V/110V 50/60Hz
RO membrane: VONTRON or FCS or FILMTEC or CSM
Housing: 10 "double " O ring housing (can be chosen)
Pump: Diaphragm booster pump with adapter
Fitting type: Quick fitting
Faucet: D-01 (can be chosen)
Pressure tank: 3.2G steel tank or 4.0G plastic tank
Unit packing: 41×35×58cm
Using famous brand reverse osmosis membrane, high pressure pump, and convenient and economical replacement filter to make pure and tasty drinking water.
Function of stage cartridge
| | | | |
| --- | --- | --- | --- |
| Stage | Description | Component | Main Function |
| 1 | 5um PP Sediment Filter | PP-10 | Remove the particles, sand , dust and colloid etc. |
| 2 | Granular Carbon Filter | UDF-10 | Remove the chlorine, odor, small outgrowth etc. |
| 3 | Block Carbon Filter | CTO-10 | Remove the odor ,chlorine, , suspension |
| 4 | RO membrane | FULLCOME or FCS or FILMTEC | Remove the heavy metal ,harmful soluble solid ,bacteria, virus, other dissolved matter and chemical drug in the running water |
| 5 | Post inline Carbon Filter | T-33 | Adjust the taste for .pure water |
Reverse Osmosis home System with digital display & plastic bracket