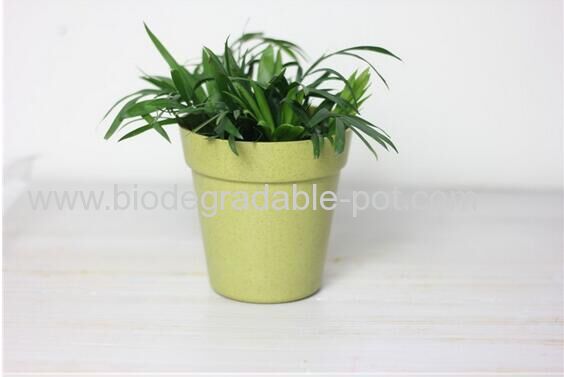 Bamboo Flower Pot
Item#:LJ- FL-06
Size: Dia 285mm*H 235 mm*T 156 mm
Weight: 691 g


1. The main material is natural plant fibre, such as bamboo powder, crop stalks, rice hull etc.
2. Heat-resistant (up to 95 degrees centigrade), low temperature-resistant ( minus 40 degrees centigrade), high strength than traditional plastic one, non-flammable, non-fragile, non-toxic, and tasteless, it is absolutely harmless to human.
3. The products can be naturally biodegraded into organic fertilizer in the field after they are discarded. There is no harm and pollution to the environment. It can protect the environment and reduce the cost of waste disposal.
4. Our products have many choices of color, size for your reference. Also you could design the style by your choice.
Biodegradable flower pot
1. Material: bamboo and rice hull
2. Unique and natural texture
3. Allow plant roots to breathe
4. Various designs and colors to choose
5. Can be customized to suit your own style and size
6. Good in greenhouse conditions
7.Degraded period : can be adjusted into periods from 4-6 months, 10-12 months and 36 months according to customer requirements and use conditions. Our biodegradable products can replace PE and PP seedling cultivation containers that cannot be degraded.

Packing information of this Biodegradable Flower Pot:
Pcs/ctn: 14
G.W/Ctn: 11.0 Kgs
N.W/Ctn: 10.0 Kgs
Carton dimensions: 30.5x30.5x50.5 cm