The Stator Insulation Paper Inserting Machine is suitable for small and medium-sized three phase motor, gasoline generator,etc. Inserting insulation paper automatically from bottom of stator slot;automatic paper feeding, edge folding and forming; characterized by low noise,fast speed,excellent forming,etc.; slot number change is controlled by electric;interval slot inserting and skip slot inserting could be at option; it is conveient and easy for different slot number stator production and changing tooling.


Operation is simple, load empty stator manually, press start button, then it will index and insert paper automatically, then unload finished stator manually, this is the process of finishing one cycle.

I. Technical Data:
| | |
| --- | --- |
| Stator I.D | 20~90mm |
| Max stator O.D | 135mm |
| Stator stack length | 20mm~90mm |
| Height of edge folded(cuff) | 2~4mm |
| Max insulation paper thickness | 0.35mm |
| Feeding length | 12~45mm |
| Tack time | 0.5S/slot |
| Power | 750W |
| Input | 380V/50/60HZ |
| Machine productivity | around 1500pcs/8hours |
| Dimension | 1100mm × 650mm × 1000mm |
| Weight | ≈ 400kg |
II. Machine main function and characteristic:
l. The cutting edge of insulation paper should be neat, no damage, and free of burr. The stator should not be deformation and stator lamination should not be upward resulting from paper inserting.
2. The whole set of tooling can be changed, and it takes about 30min.
3. Machine will stop automatically when paper jams.
4. With a text displayer, this machine can display and set all different models' parameter.
5. Primary qualification rate ≥99%, after rework, the rate ≥99.9%
6. Production capacity ≤1s/slot (exclude the loading/unloading time)
7. Paper width: stator stack length+14mm, edge folded: according to customer's requirement.
8. Operator needs to stand while operating. This machine adopts single hand system button.
9. This machine is suitable for Polyester Film insulation paper roll material with thickness 0.25mm and fixed width(width is decided by customer)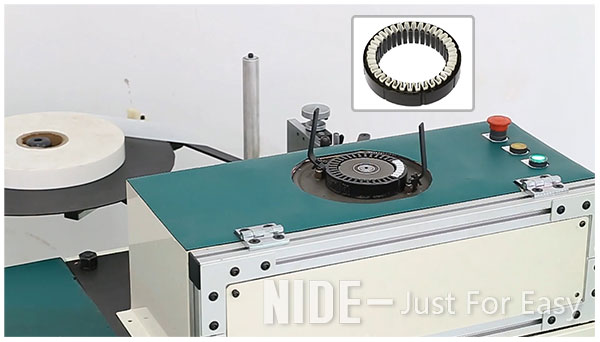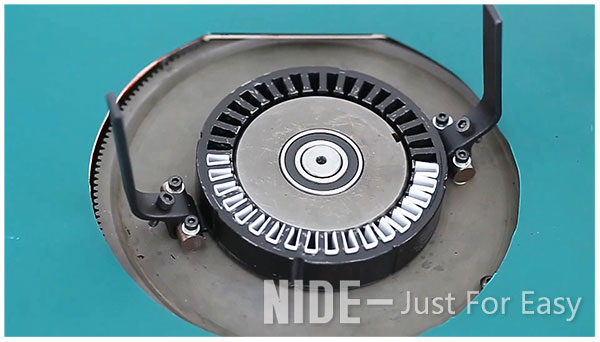 Besides paper inserting machine, we also supply different types of insulation materials for stator or armatures, such as insulation paper and wedge with different class degree. DMD Class B/F, DM Class B/F, Polyester film Class E, Red Vulcanized Fiber Class A, NH& NHN, etc