The characteristic of product:
The Rexroth 4WE6C, 4WE6D, 4WE6A, 4WE6B, 4WE6Y directional control hydraulic valve single solenoid is a four-way valve, it will operate in its position until the coil energized, and returning to its previous position when the power is removed, with the qualified coils are moisture and dirt resistant. The standard accessories are manual override, indicating signal lights, bolt kit, plastic connectors are easy for replacement.
Cetop3 Rexroth 4WE6C, 4WE6D, 4WE6A, 4WE6B, 4WE6Y Directional Control Hydraulic Valve Single Solenoid
The Cetop3 directional control hydraulic valveamounted with wet solenoids and maximum insulating properties, which is impervious to moisture and dirt situation. Plug in coils, which is easy to replace and maintenance, and changeable voltage for different requirements.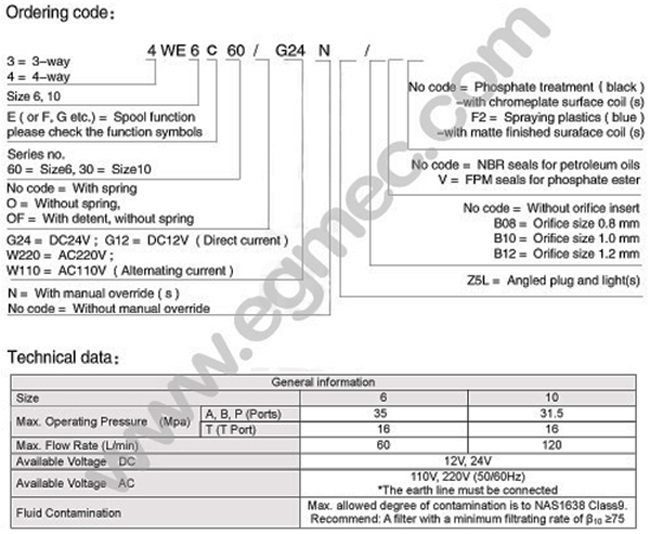 The technical information of Cetop3 directional control hydraulic valve:
Max. operating pressure: 315 BAR
Rated flow capacity:60 L/MIN - Varies by spool type
Max. tank line back pressure: 130 BAR
Recommended filtration: 25 MICRON
Hydraulic fluids: Mineral Oil, Viscosity 10 - 400 CST
Temperature range: -25° C to +90° C
Random installation: DC12V, 24V; AC110, 220 are available, please indicating before ordering
Note: For extension of the service life, It is better to use the condition where is no gas or dust in ambient which can corrupt metal or destroy nonconductor
Please contact us for any special products.